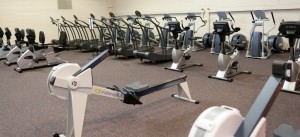 While at the gym this morning I got to thinking about … what I pay to go to the gym. I have a membership, although the option of day passes is available to me. The rational thing for me to do at the start is to figure out how often I intend to go, and calculate which is the better deal, membership or day passes. I know that I am more likely to go more often with a membership because the monetary marginal cost to me (although not the cost in time) will be zero dollars per visit, and I should take that into account.
But are people rational when they make these decisions? Of course, we all think of ourselves as rational, but what is the evidence? In a paper published in the American Economic Review, Stefano DellaVigna and Ulrike Malmendier found that the average gym member was paying much more per visit than the cost of a day pass. Note: it's not just a few people making a poor financial decision, but the average member is losing money. The reason is optimism over gym attendance – people think they will attend more than than they actually do, because of course they hope they will attend more than they have in the past. Firms exploit our optimism in many different facets of pricing. In another American Economic Review article, Michael Grubb considers the very high interest rates charged by credit cards, high late fees charged on rentals, and steep marginal prices on cellular and texting plans: even when the terms are spelled out to us very clearly in advance, we are convinced we will not use our credit cards as a source of loans, we will return rented movies on time, we will monitor our calls and texting. Except that we don't.
How does all this inform pricing? When facing the rational, self-knowing consumer,  the membership price reflects the fact that there are diminishing marginal returns to visits – I place less value on each subsequent visit than the one before. Members don't go to the facility every chance they get, even though they get in free, because the joy soon starts to diminish and our time is short – there are only so many visits we want in a year even when the entry fee is zero. The faster we expect diminishing returns to take effect, the better the "deal" that membership needs to offer. It is no use telling a customer "you should buy a membership if you plan on attending more than twelve times this year" if it is a very rare person who would want to attend twelve times in a year. But if the customer mistakenly thinks she will want to attend at least twelve times in the year, then it is strategic for the organization to advertise this option, and know that the price that can be charged is higher than in a world of perfectly rational buyers.
If museums are like gyms (note Nina Simon made the gym-museum analogy a few years ago) – something people think is a worthy activity that they ought to do more of, and will do more of if they have a membership – then diminishing returns occur faster than people expect they will. Their visits to the museum with a membership will be fewer than they forecast when they bought it, and museums could exploit this by soliciting memberships at a (higher) price they know is in fact not a sound monetary decision by the visitor (putting aside for now that the membership might be valued for other reasons than just the visits themselves).
I have no data comparable to what we have on gym use. How many museum members end up in a year paying more per visit than the cost of a single admission? Is it, like gyms seem to be, the normal outcome? I'd really like to see some numbers on this.
Footnote (as shared by DellaVigna and Malmendier):  "Monday 28 April. […] Gym visits 0, no. of gym visits so far this year 1, cost of gym membership per year £370; cost of single gym visit £123 (v. bad economy)." Helen Fielding, Bridget Jones: The Edge of Reason