Way back in September 2010, I applauded an innovative initiative by the Detroit Institute of Arts, but noted that I thought more could be made of it. Now, I learn these five years later, more has been done with the idea.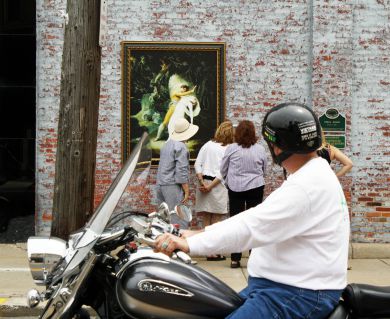 At the time, the DIA was celebrating its 125th anniversary by putting up 40 framed, life-sized digital reproductions of works in its collection on street locations all around its four-county area. It was a big hit–the DIA has continued it ever since–so big that the Knight Foundation is putting $2 million into helping it spread to other museums in eight cities. Among them are the Akron Art Museum and the Philadelphia Museum of Art this summer and, in the fall, the Perez Art Museum Miami.
And as Knight recently wrote on its website, Inside|Out, as these program are called, has changed in Detroit too:
To date, the DIA has installed more than 800 Inside|Out reproductions in 100 neighborhoods in and around Detroit. Six years later, there is still a waiting list for the program.

What truly makes Inside|Out so incredible is that residents have taken ownership of the program. Community members organize everything from bike tours, wine tastings, photo contests and even zombie runs around the reproductions. Inside|Out makes people feel connected to these works of art, to their community and to their museum.
In Akron, the museum is drawing people into the museum with a lure, according to Crain's Cleveland Business:
To encourage visitors to see all the artworks, neighborhood-specific stickers are available at local libraries in Cuyahoga Falls, Highland Square and the University of Akron's Bierce Library. Residents who collect all three stickers receive free admission for two to the Akron Art Museum.
Good idea. And there's more, Knight says:
Residents and local businesses have activated the work in new and exciting ways. The International Institute of Akron, a nonprofit that welcomes immigrants and refugees to the city, have been incorporating Inside|Out installations into their English classes. In the Akron Art Museum's Inside|Out Tour App you can listen to Poet Laureate and Akron native Rita Dove speak about The Eviction by Ray Grathwol, which is part of this summer's exhibition.
I liked this idea from the start, and I life it even better now.
Photo Credit: Courtesy of the DIA via Knight Foundation