The Detroit Institute of Arts has launched a very cool "exhibition." The question, to me, is whether it's making the most of it.
First the facts: in celebration of its 125th anniversary, DIA has put up 40 framed, life-sized digital reproductions of works in its collection on street locations all around its four-county area. They went up on Friday.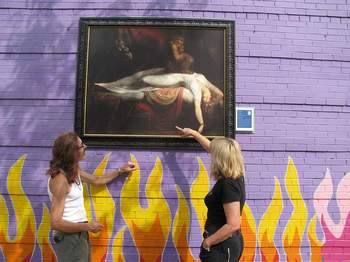 So, when you and other passers-by visit Centennial Park in Oxford, you'll see van Gogh's Bank of the Oise at Auvers, and when you go to Metro Beach Metropark on the Harrison Turnpike, you'll see Martin Johnson Heade's Seascape: Sunset.
If you visit Noir Leather in downtown Royal Oak, you'd see Henry Fuseli's "Nightmare," at left.
The reproductions were made by a local company called SM/ART Editions that specializes in large-scale vinyl reproductions for home and office décor. Its owner, Marc Schwartz, is sponsoring the show and offering the reproductions for sale. That's smart — he'll presumably do good and do well.
Is the DIA getting as much as it can from the show, which it calls DIA: Inside|Out, and describes as "treating metro Detroit as a grand, open-air gallery." It continues: "Each work is displayed in an ornate frame, accompanied by an information plaque. Some of the reproductions will be installed on walls and others on free-standing posts. They will remain on view through November." The museum wants people to "reconnect with the legacy of the DIA's collections," per the press release.
That seems to be the only goal. But how about unobtrusively seeking voluntary contributions? A little line at the bottom could say, "if you like this painting, text XXXX and donate $5 to the DIA." Maybe even set the donation at $10.
Or, the DIA could have had a contest — see how many paintings you can see between now and the close of the exhibition. Register online, and everyone who sees them all will be entered in a drawing for a membership (or 5 free passes, or something). How to check, other than the honor system — I don't know but so little is at stake (individual membership costs $65 and tickets cost $8), who cares?
DIA did, thankfully, publish a map online.
Or, people could vote for their favorite, via text or its website — DIA could even charge $1 per vote, the way the Chicago Opera Theater allows voters to select one opera from three choices with the winner produced for its spring festival season. Release the vote counts — assuming they are big enough — every two weeks on the website, to get people more involved.
I am sure there are other ways to capitalize on this. As my AJ co-blogger Amanda Ameer says, describing her Life's A Pitch — "The arts are marketable."
Photo Credit: Michael H. Hodges, Courtesy of The Detroit News