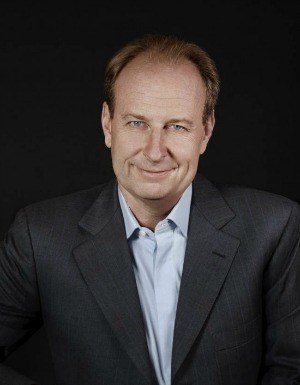 When I cited that article in Le Temps, a newspaper in Geneva, to identify the buyer of Leonardo's Salvator Mundi (Russian billionaire Dmitry Rybolovlev), I hadn't read far enough: Yves Bouvier (pictured), the broker-dealer who sold the Leonardo to Rybolovlev–allegedly committing fraud (which his lawyer denies)–also may have used the same tactic when he sold a Modigliani nude owned by Steve Cohen to the Russian.
Here's how it worked, supposedly: Rybolovlev paid Bouvier $118 million for the Modigliani, but Cohen received $93.5 million for it. At a New Year's Eve party last year, Rybolovlev learned of the gap from Sandy Heller, Cohen's art adviser–but Heller had no idea he was talking to the anonymous buyer. Rybolovlev charges that Bouvier pocketed the difference, $24.5 million, plus a commission he paid.
According to Forbes (which cites Le Temps),
The anecdote about Steve Cohen's Modigliani comes straight out of the criminal complaint received on January 12, 2015 by Monaco's Palais de Justice, and was confirmed by source close to the matter. While Bouvier may not be a household name in the U.S., the accusations and ensuing arrest reverberated across the European art market, where Bouvier runs a set of luxury warehouses across Geneva, Luxembourg, and Singapore where the world's billionaires store their art, along with jewels, fine wines, and other luxury goods legally in tax-free zones.
Bouvier has a past. Again, from Forbes:
…Bouvier was embroiled in a similar legal scandal in 2008, when he was connected to a group that tricked an aging collector into selling a piece by Russian-born French artist Chaim Soutine that was then flipped to the National Gallery of Art in Washington, DC. A suite filed by the heirs of Canadian Lorette Jolles Shefner claims she was misled into selling Piece of Beef for $1 million in the Spring of 2004 by two art experts who, a few months later, sold it to the National Gallery for nearly twice the price. Bouvier was "acting in concert [with the experts] to disguise the true ownership" of works of art as part of the fraudulent scheme, court documentsrevealed.
Rybolovlev settled that divorce battle I mentioned in my last post for $4.5 billion, several reports say, so he "needs" the money Bouvier may have tricked him out of. I hope this suit continues: we could learn a lot.