Along with, supposedly, the final price tag. He is Russian billionaire Dmitri Rybolovlev and he is said to have bought the painting for $127 million.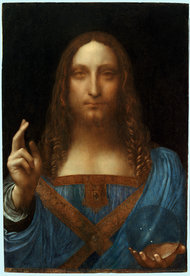 When I last left this subject, in November, 2013, I said that the painting has been sold to a private collector in Europe.  In March, 2014, the New York Times picked up the sale and put the price tag at around $75- to $80 million.
Now a lawsuit filed in Monaco says that Rybolovlev bought the work in May 2103, through Swiss dealer and free-port king Yves Bouvier. Rybolovlev is suing Bouvier, according to an article in Le Temps, for fraud. 
The story is, of course, in French, and my French, even with help from online translating pages, is rudimentary. However, it seems to say that Rybolovlev saw the NYT figure and decided that the price he actually paid was less and that Bouvier actually pocketed the $50 million or so difference in addition to the $1.27 million commission he paid.
The purchase apparently came at a time when Rybolovlev, in the midst of a nasty divorce, was spending as much cash as he could to keep it away from his ex-wife, Elena.
What a mess. But if we stay tuned to the lawsuit proceedings, we may pick up some things about the art world.
UPDATE, 3/13: The Financial Times has an article this morning saying that a Singapore court has frozen the assets of Bouvier:
The temporary court order forbids Yves Bouvier, the head of Switzerland-based Natural Le Coultre, from divesting his personal assets, including any shares in companies that he owns up to the value of $500m.

The court has also demanded that Mr Bouvier hand over a multimillion-dollar Mark Rothko painting, No. 6 (violet, vert et rouge), now at the centre of a bitter dispute between the businessman and one of his clients.

On Wednesday, Swiss police conducted two raids at Geneva free port, searching the offices of Natural Le Coultre and Gallerie Nelombos, owned by a business associate of Mr Bouvier, Jean-Marc Peretti, which deals in post-Impressionist and modern art.

…Mr Bouvier, who lives in Singapore, was arrested at the end of February on suspicion of price fixing and money laundering, allegations he vigorously denies. He was released three days after his arrest on €10m bail.

A statement from Mr Bouvier's lawyers said at the time that he would demonstrate the "fantasy and non-existence" of the "alleged damages". His lawyers told the Financial Times that Mr Bouvier carried out the transactions with Mr Rybolovlev's trust on a commercial basis, as a dealer, rather than as an agent.