Winterthur, the great palace of American decorative Arts in Delaware, is suddenly the belle of the ball thanks to British fashion. And television.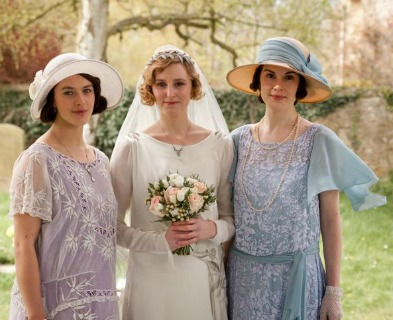 Since the March 1 opening of its Costumes of Downton Abbey exhibit, some 550 visitors per day, on average, have been arriving, "exceeding all attendance records maintained since Winterthur opened in 1951," Liz Farrell, the museum spokeswoman says. Last year at this time, Winterthur was presenting a wonderful exhibit that I wrote about for The Wall Street Journal, Common Destinations: Maps in the American Experience, but stellar as it was, maps drew an average of 100 visitors per day.
Says Farrell: "The month of March 2014's 12,233 visitors to Costumes of Downton Abbey surpasses the previous record set following the June 17, 2001, dedication of Enchanted Woods (7,594 visitors)." Winterthur's previous record exhibition was Fashion in Film in 2006 – 2007, which drew 307 visitors per day. Also, "lectures are selling out of the 300-seat Copeland Lecture Hall."
I didn't ask, but I would bet that Winterthur's visitors are mostly women, who've always been the most ardent fans of decorative arts. So costumes are a natural.
And they are thrilled, naturally — it isn't easy for a museum that's even slightly off the beaten path to go beyond its natural, local constituency.
Winterthur's experience also follows patterns elsewhere — exhibits of clothes by Alexander McQueen, Yves St. Laurent, and other fashion stars also set records at various museums. Last year's PUNK: Chaos to Couture at the Metropolitan Museum was No. 10 on The Art Newspaper's annual list of most-attended museum exhibitions.
So I don't see this trend to fashion shows ending; the challenge for art museums is to keep them grounded with a thesis, even when they are monographic. The apogee on that score, at least recently, would have to be Impressionism, Fashion, and Modernity, which was originated by Gloria Groom at the Art Institute of Chicago.
Photo Credit: Courtesy of Winterthur