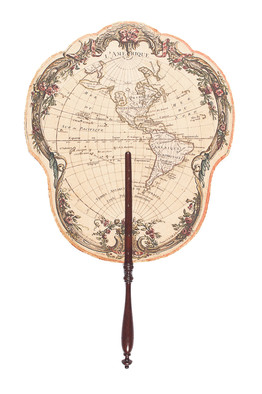 That's not the real title of the exhibition that opens at Winterthur on Saturday. Martin Bruckner, the guest curator of "Common Destinations: Maps in the American Experience," talks rather about the "social life" of maps. But the exhibit is kind of a coming out for the Winterthur collection — a few of the items in the show have been on view, but it was mostly the maps on ceramics or paintings, that were tucked into the permanent collections rooms. The big paper maps have been tucked away in the library or decorative arts collections.
Winterthur owns about 250 maps now, most purchased after it became a museum — not by the duPonts whose house Winterthur was.
With so many people now using GPS rather than looking at maps, this exhibition is very timely. I write about it and how it came about in today's Wall Street Journal. Have a look (it's not behind the paywall).
Meantime, I'm showing a few examples here.
From top to bottom: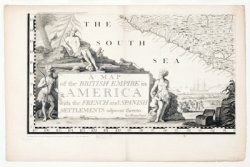 "L'Amerique": Jean Lattré, Paris, France; from 1779–80 — an "engraving with watercolor on paper, pasteboard, wood, brass: 'As rare as it is unique, this adaptation of a map into a fashionable fan is only one example of the vast crossover appeal maps had in the 1700s and 1800s.' " It's a cartifact.
A detail from the "Popple Map" — "The largest and perhaps most spectacular one made in the 1700s illustrates the ways in which maps entered American culture. Widely criticized in its own day for misrepresenting the continent's geography, the Popple map was nevertheless acquired by public institutions and private citizens."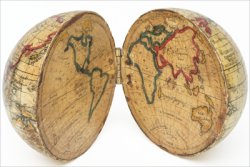 A pocket globe, by Holbrooks Apparatus Manufacturing Co. Wethersfield, CT, 1830-59.
Photo Credits: Courtesy of Winterthur