Here's that paper's opinion piece: Offers to save DIA would mean big trade-offs for city, pensioners.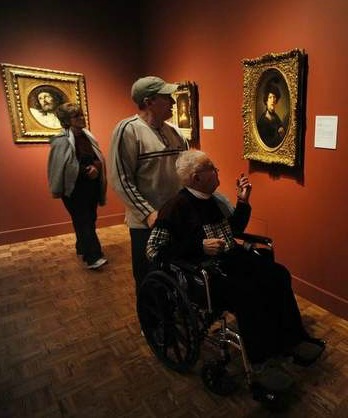 The Detroit News  is less emotional about the riches in the Detroit Institute of Arts than its rival Free Press, but a column by Daniel Howes too argues against a sale and for the so-called grand bargain (foundations ponying up money to secure the DIA's art from sale and remove it from city ownership). An excerpt:
The DIA is the central battleground in Detroit's high-stakes bankruptcy and the prize is winning the support of pensioners who have the power to achieve one of two things, mainly: Take the richer DIA fund deal offered by Emergency Manager Kevyn Orr, or reject it, lose the additional funding and steel themselves for what is shaping up to be a bankruptcy cramdown of epic proportions….

[Judge] Rhodes, who has demonstrated an admirable ability to call BS from any and all sides when he sees it, doubtless will be obliged to consider the DIA alternatives filed Wednesday. He'll see that the FGIC offer says the DIA fund isn't what it purports to be. Details of the offers matter, but so does the fact that federal bankruptcy laws holds that only the city in a Chapter 9 case can decide to sell any, all or none of the DIA assets.

That's why the DIA fund, raised mostly from Michigan-based donors, is so critical. The four potential alternatives offered by FGIC range from a low of $895 million from Yuan Management Hong Kong Limited for 116 works to a $2 billion loan from Art Capital Group LLC. It proposes to use the entire DIA collection as collateral for a loan to be serviced by the foundations and DIA donors.

How those proceeds would be used and to benefit which creditor class or classes is not clear — but it should be to pensioners who would be the sole beneficiaries of the DIA fund being offered by the foundations, state and DIA donors. That's why the Big Money guys are so unhappy.
Good for him too.
Photo Credit: Courtesy of the Detroit News