The situation at the Cincinnati Art Museums gets stranger and stranger. Director Aaron Betsky, who was pretty much forced out at the beginning of the year, will leave on May 1 — instead of his earlier plans to stay until his successor was named.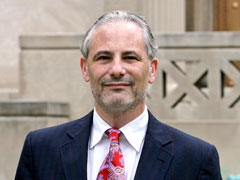 This move, my sources suggest, reflects deep turmoil within the museum caused by Betsky, who is a polarizing figure, if nothing else. His tenture there has been marked by turmoil.
In a statement sent by board president Martha Ragland to employees yesterday, she said: "The Director has asked us to leave on May 1 instead of Sept. We have granted his request.  Dave Linnenberg (the COO) will be the interim Director. Let us support him at this time, especially with our limited budget."
But these statements rarely reflect the whole story, and one source tells me that the search firm looking for the new director "will not send candidates until he left and is not apart of the decision making process." I hope that is not entirely correct — if the search firm, which in this case is Russell Reynolds, is driving the decision instead of trustees, that is a big problem.
I hope to have more on this later.
Meantime, here is the press release from the museum; here is my post from last May outlining some of the problems; and here's what the Cincinnati Enquirer had to say.