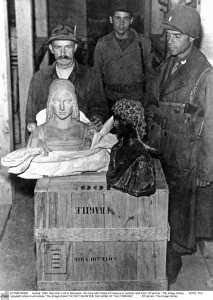 "The Monuments Men," George Clooney's movie supposedly based on Robert Edsel's book (see this previous post for the real story-teller), is not doing well in the eyes of critics. The Washington Post's Philip Kennicott pretty much eviscerated it. Metacritic figured that, all told, movie critics rates it 52 out of 100.
But of course, even before the movie made its debut, museums tried to figure out how to capitalize on the publicity it would get. Nothing wrong with that. Of those I've seen, I like what the Minneapolis Institute of Arts is doing best of all. MIA has created a self-guided tour of the nine objects in its collection that were rescued by the Monument Men and Women. According to the release:
The tour begins on the third floor with the rare Renaissance bust of St. John the Baptist [below, right, today, and in recovery, at left] acquired by the MIA last year, which was looted by the Nazis and rescued by the Monuments Men in 1945. Other artworks on the tour include paintings by Pierre-Auguste Renoir, Johannes Lingelbach, Ernest Ludwing Kirchner, Lyonel Feininger, Willem de Poorter, and Pierre-Paul Prud'hon, as well as a statue by Adam Lenckhardt and a dreidel with a remarkable story of survival. 

The tour also highlights two Monuments Men who came to work at the MIA after the war: Richard S. Davis, who served as senior curator from 1946 to 1956 and as director from 1956 to 1958, and Harry Grier, who served as assistant director from 1946 to 1951.
Why I like it best is obvious — it focuses attention on the art, and it draws people into the permanent collection galleries. The MIA is also blogging about the Monuments Men tour (first installment), with the stories behind each art work.
What's up at other museums?
the San Francisco Palace of the Legion of Honor is exhibiting a van Dyke painting that was once in the collection of Hermann Goering, later returned to its owner and gifted to the museum,
the Nelson-Atkins has mounted an archival exhibition about the Monuments Men —
Those are a few  of the many, probably.
In an ideal world, the MIA and the others would have done this when The Rape of Europa documentary was released years ago, telling the real story. But then, of course, fewer people might have paid attention. The way of the world.
Photo Credits: Courtesy of the MIA