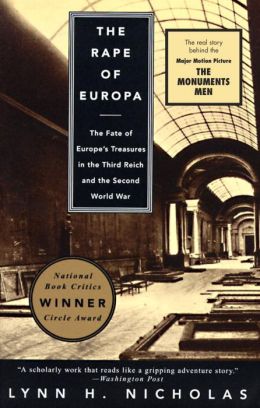 There's at least one thing to know before you see how Hollywood, i.e. George Clooney, renders the story of the Monuments men and women who in the last days of World War II and soon thereafter saved so many precious works of art that Hitler had seized: I am sure that by now you know that the movie opens on Feb. 7.  It will be how so many people learn about what we know about them.
Clooney's movie credits the book of Robert M. Edsel — and to my knowledge, as shown in the credits on IMDB, makes no mention of Lynn H. Nicholas, who in 1994 had published The Rape of Europa: The Fate of Europe's Treasures in the Third Reich and the Second World War." That's the book — the research — to which we owe the story of the Monuments men. Edsel credited Nicholas in his own book on the monuments crew, published in 2009. But not the movie.
So I was pleased to read The Wall Street Journal this morning, and to see a piece by Nicholas headlined What the Monuments Men Wrought. It recaps the tale and provides some anecdotes of her initial reports, and ends graciously this way:
During these interviews I was surprised at how interested each Monuments Man was in what the others had done—assuming, as most do, that they had worked closely together. But, in fact, they almost never saw one another in the field, nor were they able to communicate on a regular basis. So they were fascinated by the details of the various missions of their colleagues. I am sure that those who are no longer with us would be delighted by this cinematic re-creation of their exploits. Can't wait to see it myself.