There's a new guy running Lincoln Center, as of next Monday: Jed Bernstein takes over from Reynold Levy then, and we should expect some changes – though not necessarily visible ones in the near future.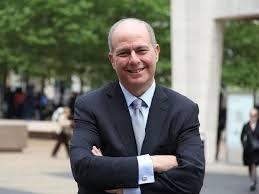 Bernstein, a one-time ad man and Broadway producer who ran the Broadway League for 11 years, totally reinvigorating it, and most recently brought the Buck County Playhouse back to life, won't be programming. He'll be managing. Among his top goals is getting the Center's constituent groups — the Philharmonic, the Metropolitan Opera, the NYC Ballet, etc, — to collaborate more and compete a little less.
He told me this in a recent interview, which I've written for the Winter issue of Gotham Magazine.
Bernstein is expected by outsiders to seek more corporate sponsorships, and we discussed some of that. Aside from what is in my article, he said: "There is an opportunity to get into the world of …marketing partnerships…The transaction is marketing-motivated… and it means you have to have something to give in return… I will do an asset inventory. ..find out what are people's tolerance for it." One of the "accommodations" that may be necessary, he said, involves "signage."
I hope he does not follow what the Tate does in the U.K. — see here and here, for example.
Bernstein has fond memories of the way his parents took him as a child to art performances and exhibitions and — this is essential — briefed him on what they were going to see in advance, in discussions. Since, he said, parents no longer fill that role — or maybe some do, but fewer — arts groups  have to do it themselves. "We need to provide people with information about what they'll see," he said. 
Bernstein also talked about adjusting the timing of events and concerts, more earlier, like rush hour, and more later, like 10:30, for night owls.
He's going to be interesting to watch.