The backlog in my email box is getting way too deep; I can't keep them all. So, here's a grouping of things that I might have written about at greater length, had I had the time to do more background work and think about them in depth.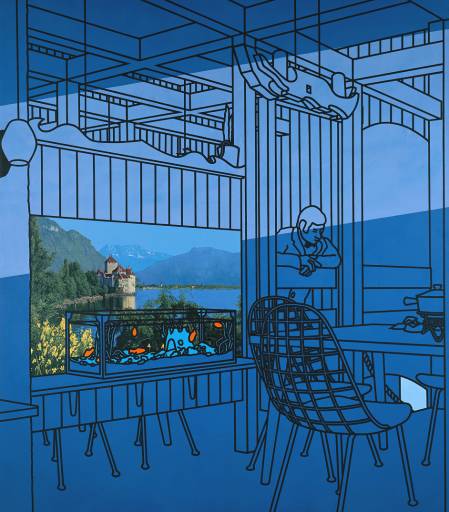 In the first category — the wince-inducing developments:
In late 2011 four British arts institutions renewed a sponsorship deal with BP despite protests from environmentalists — it's worth £10 million through 2017, roughly divided equally among the four. Environmentalists had protested the deal, citing the oil company's poor safety record and who-cares attitude toward damage to the earth. Both sides have their points. But did part of the pact with the Tate have to entail such pointed branding as calling an exhibition program "BP British Art Displays."  That is the unfortunate description on the invitation I received the other day to preview BP British Art Displays: Looking at the View next Monday. The show, which opens to the public on Tuesday, "looks at continuities in the way artists have framed our vision of the landscape over the last 300 years." Tacky. (That's Patrick Caulfield's After Lunch at left.)
A blog in Philadelphia is touting the position at #4 of the Philadelphia Museum of Art on a list put together by Complex called 100 Museums to See Before You Die, but it's an odd honor. Take a look for yourself. What kind of a list would make the Hermitage #98, but the Hirshhorn #3? Or put as #1  the Simone Handbag Museum in Seoul…?  I'm not sure what Complex is, btw. But it compiles a lot of lists. A month ago, it had the 10 Most Googled Museums in 2012, drawn from Google's annual Zeitgeist report. At the top the list: The Metropolitan, followed by the Philadelphia Museum, the National Gallery/Washington, the deYoung, and the Museum of Science in Boston, etc. That's more like it.
Now some good things:
Many museum panels and programs seem bland to me, but here's one that's not: This coming Sunday, the Pennsylvania Academy of Fine Arts will offer a public forum on Gender and Race in Contemporary Art. A topic like that doesn't usually interest me, but this one may be different — critic Ken Johnson is there to defend a position he took in The New York Times previewing PAFA's exhibit The Female Gaze; it was published November 8, 2012, and said in part: "Sexism is probably a good enough explanation for inequities in the market. But might it also have something to do with the nature of the art that women tend to make?" That generated a huge blowback, and Johnson is man enough to take on the dissenters in public.
TEFAF Maastricht continues to give money to American museums (it's usually the other way around, with Americans giving heavily to European cultural institutions). TEFAF's recently announced conservation grants, which it started last year for its 25th anniversary, this year went to the Worcester Art Museum in Massachusetts and to the Ashmolean Museum at Oxford.  Each gets €25,000. In Worcester, that will pay for the restoration of two pendant portraits by William Hogarth of William and Elizabeth James (at right) from 1774. They were acquired more than a century ago, but have never been technically assessed or comprehensively treated. Last year, the Denver Art Museum and the Rijksmuseum shared the prize.
RCA readers know I like single-picture exhibitions (see here, here and here, for example), and two great ones have recently been announced. For six weeks beginning Feb. 16, the Getty Museum will be showing Vermeer's Woman in Blue Reading a Letter, its only U.S. stop on its world tour. It's a loan from the Rijksmuseum in Amsterdam, which has been under renovation for 10 years (that gets a wince, too). And on Feb. 19, van Gogh's Bedroom in Arles, on loan from the Musee d'Orsay, will go on view at the Detroit Institute of Arts. It stays, amidst three van Goghs owned by Detroit, until May 28.
That's enough housecleaning for today.
Photo Credits: Courtesy of the Tate Britain (top) and the Worcester Museum of Art (bottom)