The Baltimore Museum of Art just announced that it will become the third museum to reopen "historic" doors that had been shut in favor of newer entrances — it's a trend I applaud.
BMA joins the Museum of Fine Arts, Boston, where several years ago Malcolm Rogers renovated and reopened both of the MFA's grand entrances, Huntington Avenue on the Avenue of the Arts and the Fenway Entrance, and Matthias Waschek, who in 2012 reopened the history Salisbury doors, which had closed for the several years except for weekends and special events. In the later two cases, the motivation for closing was primarily cost-cutting, I've been told. When I asked the BMA why it had closed its Merrick Entrance 30 years ago, I got this reply:
Prior to the opening of the Baltimore Museum of Art's East Wing in 1982, the Merrick Entrance was the main entrance. It is a historic space that at that time lacked climate control, wiring for additional electrical outlets, and other basic features. Like many museums at that time, the BMA added the East Wing with more modern amenities for visitors such as an expanded shop, auditorium, restaurant, and circular driveway. The lack of climate control in the Merrick Entrance was problematic for the artworks in the American Wing and the museum decided to focus its resources on the entrance that was more convenient for visitors.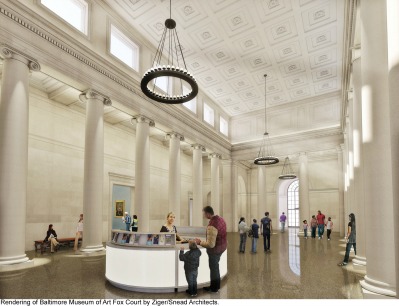 Next year, the BMA is celebrating its 100th anniversary with, among other things, the reopening. As the director, Doreen Bolger, said in the press release:
The reopening of the BMA's historic Merrick Entrance and the Dorothy McIlvain Scott American Wing will be an extraordinary moment in the museum's distinguished history—bringing together museum-goers of all ages to experience John Russell Pope's first vision of a great public art museum.
Though none of the three mentioned it, there's another dynamic in the museum world that I've disagreed with in the past and which has relevance here — some people state that young people find Beaux Arts and other traditional museum architecture to be "intimidating" (see here, for example). There three museums obviously can see through that hoary excuse.
And as these renderings of the Merrick entrance at the BMA show, these old entrances are often stunning.
Photo Credit: Courtesy of the BMA