You never know what will catch fire. A couple of years ago, the Cloisters of the Metropolitan Museum had a little sensation on its hands when it displayed a set of the Lewis chessmen. Attendance soared.
It was, probably, the little figures not the ivory they were made of that drew interest, but I thought of them when I learned recently about a project at the Courtauld Institute in London — in a task begun in 2008, it's cataloging all known ivory sculptures made made in Western Europe ca. 1200-ca. 1530, as well as neo-Gothic pieces, and the other day it added 700 pieces to the online database. This created a mini-storm of interest.
Plus, some Scandinavian institutions recently joined the project, which already has a long list of collaborators. And the British Library just added two 14th century manuscripts embedded with ivory, one at right.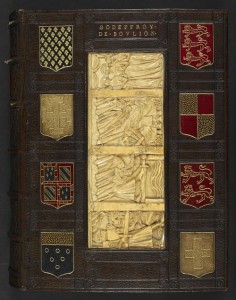 The project has its own website called Gothic Ivories, which went live in 2010; here are the people involved.
If this sounds like a throwback, compared to yesterday's post on MoMA's new Audio+, in a way it's not. Gothic Ivories has interesting exploratory tools, too, though different ones — e.g., one that lets users compare four images at once, on the same screen. Registered users can also store their images, engage in forums, save their searches, etc. Casual visitors can view some sets of images created by other users, etc.
Above, at left, is one of the items in the database, known as the Kremsmünster diptych. Go to that page, and you'll find much more information.
The site has a news section where it posts notice of exhibitions and publications.
There are many of these fascinating sites — when searched to see what had been written about the ivories, I found something comparing the site to the British Library's Catalogue of Illuminated Manuscripts.
I also found a whole raft of sites about the Middle Ages, far too many to single out any here.
Happy browsing the the ivories.
Photo Credit: © Stift Kremsmünster, Kunstsammlungen (top)