This just in: "The Stedelijk Museum Amsterdam announced today that Ann Goldstein has resigned as Director effective December 1st 2013. Appointed as general and Artistic Director in June 2009, Ms. Goldstein began working with the museum in October of that year and assumed her post in January 2010. In announcing her resignation to the board, Ms. Goldstein indicated that her work at the Stedelijk Museum is now done and that the museum is poised for a new Artistic Director to lead it into the future."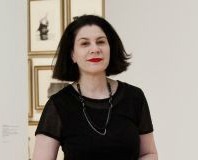 Maybe she will return to Los Angeles and take over as director of the Museum of Contemporary Art, where she was a curator for 26 years.
But the announcement must mean troubles. It was only a year ago that Goldstein was settling in for the long haul. I profiled her for Art in America magazine, and wrote more about here here.
The rest of the announcement lends more credence to my instinct that things are very amiss in Amsterdam: It says Goldstein "anounced my resignation to the Supervisory Board on June 26, 2013, confident that my work is done and the museum is firmly poised for a new artistic director to lead it into the future."
She is set to leave on December 1st 2013.
Here's a link to the full press release.