The reopening of the expanded, improved Stedelijk Museum in Amsterdam, which took place on Saturday, hasn't gotten much press in the United States, despite its being run by an American, Ann Goldstein, formerly a curator at the Museum of Contemporary Art in Los Angeles. That's a pity. Especially because Goldstein came to New York to meet the press last spring: When was the last time the Stedelijk did that?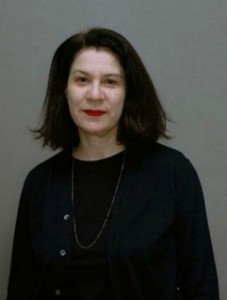 As I write in an article for Art in America magazine — the September issue — Goldstein has high goals. She exhibited, in our interviews, an interesting mix of assuredness, built on a long track records of organizing well-respected exhibitions, and willingness to change, adapting to a new country's customs. I suppose that's logical: as she pointed out to me, she's from Los Angeles, where change is a constant. And she seemed so down-to-earth that I was a little surprised when she used American corporate-speak when she talked about her goals, wanting the Stedelijk to be alive, active, artist-centered, anticipated and ambitious. Pretty good aims, despite the hokey alliteration.
One article I read, not well done, noted the lack of Dutch artists in the opening exhibitions. That's just plain wrong, as my article notes, though it's a sensitive topic. After I raised it — prompted by a chat with a Dutch artist — and we talked it through, Goldstein nevertheless later wrote me an email, saying:
As you know, we will open in September with a presentation of our collection and one temporary exhibition, "Beyond Imagination," which features the work of 20 artists who live an work in the Netherlands. It is part of a longstanding series of exhibitions known as the Municipal Art Acquisitions. These exhibitions, which are sponsored by the City of Amsterdam have been annual exhibitions and acquisitions that look at Dutch-based artists It was very important to me that we reopen with this exhibition, and as many of the artists have been participants in the residency programs here in NL: de Ateliers, Rijksakademie, and Jan van Eyck Akademie, it also gives us the opportunity to put a spotlight on the vital and important Dutch art community, which is also quite international.

 In addition, we have a magnificent new monumental textile commission by Dutch designer Petra Blaisse made specifically for our new entrance hall, our new graphic identity is by the Dutch design team Armand Mevis and Linda van Deursen, and our collection display will include the work of numerous Dutch artists and designers, including single gallery spaces devoted to the work of Marlene Dumas, Rineke Dijkstra, Willem de Kooning (here still considered Dutch), Erik van Lieshout, Guido van der Werve, Melvin Moti, Ed van der Elsken, Gerrit Rietveld, etc, as well as works by Karel Appel, Stanley Brouwn, Ger van Elk, Jan Dibbets, Daan van Golden, Loes van der Horst, Wim Crouwel, among many others in the various collection presentations.
The Stedelijk is an international museum, though, and Goldstein's bigger challenge will be meeting the attendance expectations of the board, which wants 500,000 visitors a year — which it has never done. It will need to draw from the crowd at the neighboring van Gogh Museum, which attracts about 1.4 million visitors a year, and the Rijksmuseum, which gets more than 1 million.
The Stedelijk's new entrance, on the museum square, will help, but it won't be enough.
Photo Credits: Courtesy of the Stedelijk