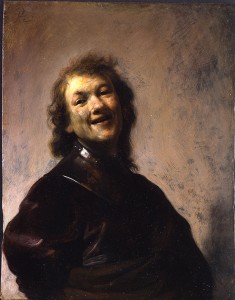 It seems like only yesterday that I wrote here about a spectacular acquisition by the Getty Museum. But it was really in December: at the time, the Getty bought a illuminated manuscript,  Roman de Gillion de Trazegnies, by Lieven van Lathem (1430–1493), at Sotheby's in London for nearly $6.2 million. It's a true masterpiece, and — last I heard — the British government was holding up the export, calling it a national treasure. The Brits have some time now to raise money to match the price.
Today the Getty announced two additional purchases that are pretty spectacular — one, a Rembrandt, undoubtedly worth tens of millions of dollars. That would be a small oil-on-copper early self-portrait "dressed as a soldier, in deep violet and brown clothes and sporting a gleaming steel gorget. The young man leans back, smiles broadly and catches the viewer's eye. His animated features are captured in this spontaneous moment of lively exchange with expressive, short brushstrokes," according to the press release. It's called Rembrandt Laughing, and was estimated at a few thousand dollars when up for sale at a country auction in Britain several years ago. Instead, it fetched millions and then was authenticated as a real Rembrandt. The Getty did not disclose what it paid for the piece.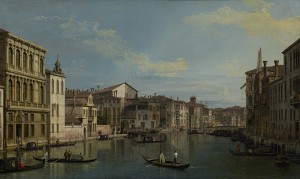 The painting is already on view in LA, apparently in the same gallery that holds the Getty's four other Rembrandt. (SEE CORRECTION IN COMMENTS.)
The Getty also said it had purchased a Canaletto titled The Grand Canal in Venice from Palazzo Flangini to Campo San Marcuola, its second Canaletto painting.
All of the details are here in the press release, and the Los Angeles Times has more back story here.
Photo Credits: Courtesy of the Getty