It's spring-buying season: several museums in recent days have announced acquisitions (none as gigantic as the Met's gift from Leonard Lauder, but noteworthy just the same). Here are some of them.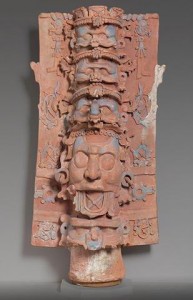 The Kimbell Art Museum has purchased two big Mayan Palenque-style ceramic censer stands — definitely museum-quality, as they were once, from 1985 to 1999, on long-term loan to the Detroit Institute of Arts. The Kimbell got them from privately: the museum said that they were imported into the U.S. from Mexico with proper documentation on August 6, 1968 and have since been in private collections in Europe and the U.S. No word on who brokered the deals. (Or the costs.)
These works — about 40 inches tall — are "typical of the Maya late Classic period (A.D. 600–900) and dated to about A.D. 690–720." Censer Stand with the Head of the Jaguar God of the Underworld and Censer Stand with the Head of a Supernatural Being with a Kan Cross (at left) will go on view on Apr. 21. The background from the press release:
Ceramic censers were an important component of ritual paraphernalia and ceremonial life at Palenque [a major Maya city-state located in current-day Chiapas, Mexico]….used both to represent and venerate divine beings, primarily the deities of the Palenque Triad. Censers were in two parts: a stand with a tubular body that served as a support; and a brazier-bowl that was placed on top and used for burning copal incense. While the functional brazier was undecorated (and is now often missing, as is the case with both Kimbell acquisitions), the stands were elaborately embellished with a wide variety of iconographic elements. The thematic arrangement depicted on these two…[is] the "totem-pole" style and is characterized by a vertical tier of heads modeled in deep relief on the front of the cylinder. The side flanges are decorated with motifs of crossed bands, serpent-wing panels, foliation, knotted bands, stylized ear ornaments and pendant ribbons applied in low relief….Though not necessarily conceived as a pair, both censers were undoubtedly made by the same highly skilled court artist.
More details here.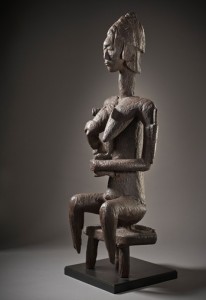 Today, LACMA fired off a release of its own, announcing the most successful Collectors' Committee fundraiser results: $3.2 million. With it, and including two additional gifts from the evening's sponsor, the museum has added nine works of art to its collection. They include "one of the oldest surviving wood sculptures from Africa, ancient Korean and Japanese sculptures, as well as modern and contemporary pieces by Thomas Demand, Susan Hefuna, Julio Le Parc, and James Turrell." Meanwhile, that sponsor, JP Morgan Chase, donated "a photograph by Robert Frank, St. Francis and Gas Station, and City Hall—Los Angeles, from his iconic series The Americans; and a portfolio of seventy-five mixed-media works on paper made by Ed Ruscha in 1969, Stains."
For more details, you can read the press release or the shorter blog version, which has the benefit of pictures.
The National Gallery of Art's Collectors Committee has been busy too. Today came word that it had "made possible the acquisition of Piano/Piano (1963–1965/2011) by Richard Artschwager, a major example of the wooden sculptures that employ Formica as a laminate, for which he is known (below left); Plaster Surrogates (1982/1989) by Allan McCollum, the last large grouping available of the artist's signature works in this series; and Condensation Wall (1963–1966/2013) by Hans Haacke, a breakthrough kinetic work from the artist's early career."
The NGA also acquired a work by Rineke Dijkstra and — yes — the same Ruscha that LACMA bought, "Stains (1969) includes 75 sheets of paper stained with 75 different ingredients and represents Ruscha's first venture in this unusual medium."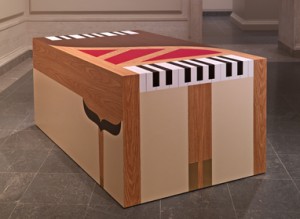 Details are here.
In West Palm Beach, the Norton Museum of Art just said that trustees approved the accession of nine "significant works of art" from area collectors. They include three Italian Old Master paintings: Adam and Eve with the Infant Cain and Abel (1705) by MarcAntonio Franceschini, "a rare example of this artist's work held in a public collection in the United States;" Saint Onuphrius of Egypt (1545-1550) by Lorenzo Lotto, "a Venetian painter whose work represents an important transition stage to the first Florentine and Roman Mannerists of the 16th century;" andJacob Stealing Isaacs's Blessings (1780s) by Gaetano Gandolfi, "a Bolognese painter known best for his fluid draftsmanship." All are gifts from Damon Mezzacappa.
The Norton also received three 20th-century works from trustee Anne Berkley Smith: Richard Diebenkorn's Mission Landscape, from 1962, and Landscape with Figure, from 1963, and Wayne Thiebaud's Neapolitan Pie, from 1963. And Beth Rudin DeWoody donated…of Prosperity, from 2011, a sculpture by South African artist Mary Sibande.
The Norton's Contemporary and Modern Art Council, meanwhile, raised money to acquire Mnemosyne I, a 2012 "monumental" charcoal drawing by Jenny Saville and Lynda Benglis's Cocoon,  a 1971 work that blurs painting and sculpture.
Back here in New York, the Morgan Library & Museum said it's getting a gift of 28 letters written by J.D. Salinger from the Ramakrishna-Vivekananda Center of New York — bringing the total of Salinger letters on Madison Ave. to 52. The gift commemorates the 150th birthday of Swami Vivekananda, who brought Vedanta, the religious and philosophical teachings of India, to the West in 1893. The Morgan says:
J. D. Salinger was deeply influenced by Vedanta and had an enduring relationship with Swami Nikhilananda, founder and spiritual leader of the Ramakrishna-Vivekananda Center of New York. Salinger attended services and classes at the Center in Manhattan, and at the Vivekananda Cottage retreat in New York's Thousand Island Park….

[Written between 1967 and 2006, the letters] pertain to Salinger's many donations to the Center over the course of nearly forty years, while others contain reflections on spiritual and other matters.
 Photo Credits: Courtesy of the Kimbell (top), LACMA (middle) and the NGA (bottom)