As long as I can remember, I've been troubled by what I have here called "the male gap," the fact that art seems to be much more appreciated by women than men. At least it's women who go to museums more frequently. I don't think that's because of museum hours anymore — though it used to be. Most women now work, and museums have more night hours. But women still outnumber men at art museums — museum directors tell me that, and even government statistics, weak as they are on arts numbers, bear that out.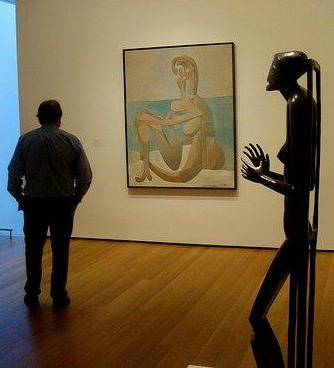 I think it's partly because viewing art isn't seen as a manly activity. Art-making is, but not art-looking.
A long time ago, I wanted to write a piece called Real Men Do Love Art — a takeoff, for those don't remember, on the 1982 book Real Men Don't Eat Quiche. I never did, but part of my argument was going to be about collecting — the competitive aspect of collecting. Men like to compete more than women do.
My idea had been ignored (by me) for a long time, but I thought of it several days ago when I was talking with an editor at The New York Times. I mentioned the big gift by Leonard Lauder to the Met and added that most of the big collectors, both of the past and the present, were men. I told her why I thought it was so. That's how The Art of the Hunt, which was published in the Sunday Review section today, came about. Of course, I did reporting in between the thought and the writing to back up my thoughts.
There are exceptions, of course. I say that. The question now is how to make more men, who can't compete in buying art for lack of money, go to museums. Art appreciation shouldn't be considered a feminine activity. Here's a thought for corroboration: In French, "art" is a masculine noun.