Since I wrote here two days ago about the strange, even silly goings-on at Save the Corcoran, I've learned a thing or two that only makes the group's stance worse.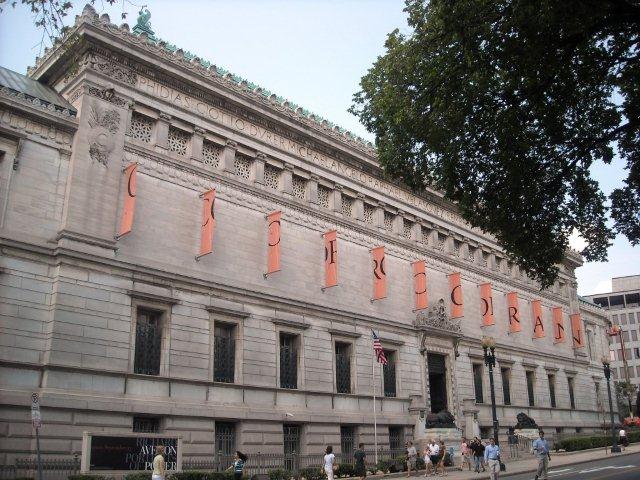 A brief recap: Save the Corcoran endorsed Wayne Reynolds for chairman of the board of the Corcoran, even though he plans to sell off the collection to pay the bills for a plan to expand the Corcoran College of Art and Design, boost the focus on technology and new media, as well as "traditional arts disciplines." Aand even though he wants to "de-emphasize the gallery" because it can't compete with "the free, federally funded galleries in town." Those quotes come from an article in the Washington Post.
In a press release, STC quoted Terrance Shanahan, a Corcoran member and a leader of the group as buying into Reynolds's vision and saying, "We can no longer sit on the sidelines and let the current board meet in committees and subcommittees while the coffers drain and potential supporters dwindle. The Corcoran's future starts now. And it starts with Wayne."
Now I learn from a couple of sources that none of the members on the group's Advisory Committee were consulted about the endorsement of Reynolds! They weren't even informed of it in advance!
Linda Crocker Simmons, curator emerita of the Corcoran and an advisory committee member, is the only one going public (at the moment), but she is not alone. Here is what she wrote to me:
Thank you for pointing out what is wrong with Wayne Reynolds' plan for the Corcoran.I would like to state that although I have been on the advisory board of the STC group I was not consulted or given any prior notice about their endorsement of Wayne Reynolds or his proposed plans for the Corcoran including de-emphasizing the museum and selling much of the art collection. I do not know who the senior advisor is who would work with Reynolds to select the portion of the collection to sell. The continued deaccessioning from the collection horrifies me. The present Corcoran Board has very little art museum experience, a non-professional director, and no full-time curator for European art so there is no one to guard the hen house except the foxes. The Corcoran has begun to eat itself alive, a form of institutional cannibalization. Too tragic. Reynolds offers nothing new to the equation. I too hope for a third choice.
Another source close to STC told me that the Advisory Committee members who objected to Reynolds's plan were not invited to recent dinner with him and Save the Corcoran leadership.
The Advisory Committee includes many people knowledgeable about art, museums and the art world. What's the point of having them if they are not called on to advise?
Shame on Save the Corcoran — not only for endorsing Reynolds, but also for the way they did it and they way they shut down dissent.