Last week, the group called Save the Corcoran (a museum which as you'll all remember is suffering from poor leadership, lack of ideas and perhaps lack of convictions) emailed me their endorsement of a man named Wayne Reynolds to become the Corcoran's new board chair. Now that I've had time to see what this would mean, I wonder if they have read the fine print.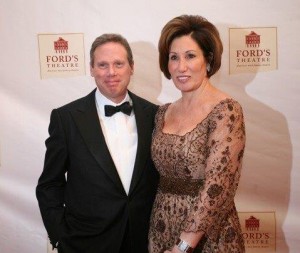 Reynolds, the husband of Catherine Reynolds (both are shown at right), who some years back got rich on student lending and attempted to give millions of dollars to the Smithsonian Institution's Museum of American History. There was a kerfuffle about her wanting to influence the content of the Hall of Famous Americans and whether it could be named, etc. and I think the donation was retracted. That may be immaterial, but it might say something about the Reynolds brand of philanthropy.
Her husband recently stepped down as chair of Ford's Theater, where he helped raise $54 million in a capital campaign and became a local hero. Now he is making an activist bid to chair the Corcoran board. As Save the Corcoran's release said:
Wayne Reynolds has a vision for a future Corcoran. His track record at Ford's Theatre and other endeavors indicates that he can take on a struggling institution and create something thriving," said Jayme McLellan, former adjunct faculty at theCorcoran and a founding member of Save the Corcoran. "He believes in theCorcoran and has a desperately-needed vision to transform it into an innovative creative center dedicated to art and arts education."
Yes, but what is the vision?
According to a March 5 article in the Washington Post, Reynolds
proposes what he calls the Corcoran Center for Creativity. He would expand the Corcoran College of Art and Design, adding a stronger focus on technology and new media, along with the traditional arts disciplines. He would de-emphasize the gallery, arguing that it can't compete with the free, federally funded galleries in town.

Most controversially, he proposes selling hundreds of millions of dollars worth of art that rarely, if ever, gets displayed and is not central to founder William Corcoran's original charge in 1869 for the institution to encourage "American genius." The money would establish a huge endowment for the first time in the Corcoran's history.
What? Save the Corcoran opposed the current regime for trying to sell the building, but endorses a new guy who wants to sell the collection? That makes no sense to me whatsoever.
Reynolds has financial clout, and other people are backing him. The Post even endorsed him in an editorial. It began:
THOUGH UNORTHODOX, the unabashedly public bid by Wayne Reynolds to take over leadership of the troubled Corcoran Gallery of Art cannot and should not be dismissed. The philanthropist has credentials and resources in getting struggling institutions to thrive — as evidenced by his work in turning around Ford's Theatre. More importantly, he has articulated a much-needed vision for the Corcoran that would bring it into the 21st century while still staying true to the 19th-century charge of its founder.
But the Corcoran's current board is balking, no doubt put off by his charges that "It's shameful what's happened there." Trustees are on their own track and don't want interference — or some newcomer coming in with a broom to sweep clean.
Maybe if they would hurry up and decide what they're going to do, and start raising some money, they can prevent Reynolds from taking over. If not, not.
I'm not sure which is the lesser of two evils. I'd like a third choice.
Photo Credit: Courtesy of the Washington Post