Even if you disliked Nicholas Sarkozy, in one way you couldn't help rooting for him to win the presidency of France a few year back because he was so entertaining. Loud, outspoken, a shameless self-promoter who liked to challenge convention, he was great to write about and read about.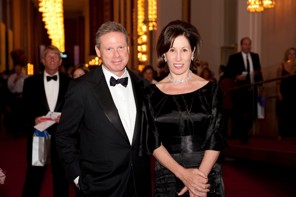 There's more than an element of Sarkozy in Wayne Reynolds, the brash Washingtonian who wants to be chairman of the Corcoran Gallery of Art. Late last week, he began emailing potential supporters of  his quest with an invitation to an open bar reception on the top floor of the ­Hay-Adams Hotel next Friday, which he is paying for and organizing with the Save the Corcoran group. The recipients included the Corcoran's students, faculty and staff.
"Do I have a choice?" Reynolds [told a Washington Post reporter]. "Harry Hopper [the current chair] has told the board not to talk to me, not to meet with me. It's not really a reflection of me. It's a reflection of the way they operate their board. . . . We're staging a revolution. "
He also told the paper's David Montgomery that he will pay the $10,000 cost of the party, and that he's worried that the 300-person capacity of the banquet room might be exceeded.
In the Post article, Reynolds elaborated a little on his plans — and here's where the worry comes in:
Reynolds says he will explain at the reception his vision for what he calls a national Corcoran Center for Creativity. He would expand the college and focus the museum on digital art, photography and contemporary art. Most controversially, he proposes creating an endowment of "a few hundred million dollars" in large part by deaccessioning — selling — a fraction of the collection that is rarely displayed.

…Reynolds says that a respected scholar, familiar with the collection, has pledged to consult on deaccessioning and has given assurances that such a sum could be raised without sacrificing great paintings.
Not likely.  Apparently Reynolds named the scholar — or Montgomery discovered it in another way — but the person in question declined to be identified. I'll bet. I'd sure like to know his/her fee arrangement, too.
Also, if the Corcoran under Reynolds focuses on the three areas he mentioned, what's to become of the 102 pre-1945 American paintings featured in the 2011 Corcoran catalogue? (Have a look here.)
One part of Reynolds's view — "It's shameful what's happened there" — is correct. If he goads the current board into action, that would be a good thing. If he somehow wins, the East Coast will have its own version of the mess at LA-MOCA.
Photo Credit: Courtesy of the Washington Post