Just in from Baltimore: The Board of the Walters Art Museum has appointed Julia Marciari-Alexander as its new executive director, replacing Gary Vikan, who announced in March, 2012, that he would be stepping down after 18 years as the museum's executive director.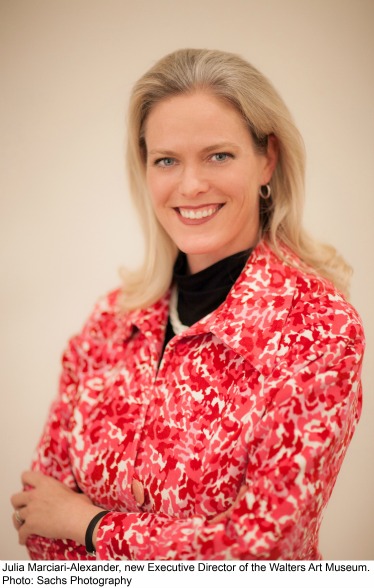 Marciari-Alexander is currently the Deputy Director of the San Diego Museum of Art, and her move requires several lines of comment, not least the conditions she is leaving behind in southern California.
First, for Marciari-Alexander, this is a great opportunity, but not without worries. Vikan is highly regarded, a man who accomplished many things at the Walters. Among them: the elimination of the Walters' general admission fee which led to an increase in attendance of more than 45%, several fundraising milestones, plus noteworthy exhibitions and the creation of  a Center for the Arts of the Ancient Americas, with a $7.25 million endowment. They are outlined here in the press release that accompanied his announcement last year.
Marciari-Alexander, in her mid-40s, has been in San Diego, heading curatorial affairs, since 2008, and before that was Associate Director for Exhibitions and Publications, among other roles, at the Yale Center for British Art. In San Diego, she oversaw the reinstallation of most of the museum's galleries and was "also instrumental in launching an initiative to publish the SDMA's collection online, similar to the Walters' ongoing digital projects," according to the press release.
In that release, Marciari-Alexander is quoted saying, "As the new Executive Director, it will be my goal to leverage the collection and the professional expertise of staff to strengthen the Walters' reputation as an international leader in the field of collections development, museum scholarship and community engagement."
Marciari-Alexander is,  however, married to John Marciari, the Curator of European Art at the San Diego Museum, and he'll be going with her to Baltimore — minus a full-time job. Instead, he told me, "I am going to continue working for San Diego, completing my catalogue of Italian, Spanish, and French paintings before 1850, and also continuing to work on an exhibition on the art of Seville (Velazquez, Zurbaran, Murillo & co.) that is scheduled for 2015. So I'm not breaking all ties."
Marciari, then associate curator of early European art at the Yale Art Gallery, discovered that Velasquez in its closet in 2010.
He will need replacing, given that collection.
And last year, the San Diego Museum also lost Sonya Rhie Quintanilla, its curator of Asian art, to the Cleveland Museum of Art. Three top people out the door at a museum where the entire full-time staff numbers 55 can be a problem. It can also be indicative.
The San Diego Museum's executive director, Roxana Velasquez, praises Marciari-Alexander in the Walters' release, but I've heard rumblings of tension between the two for months — almost since Velasquez arrived in San Diego in fall, 2010, from her post as director of the Museo del Palacio de Bellas Artes in Mexico City.
In fact, the tension seems to be more widespread that just the two of them. It's not unusual for me to hear complaints from the ranks at museums, but I would say that whenever I mention San Diego someone sends me a beef, and sometimes more than one person.
So, something appears to be wrong there, though I can't tell exactly what it is from afar. Different outlooks, views of art, management styles, poor spending decisions, curatorial independence? All of the above? I hope Velasquez uses this shakeup in her staff to fix it.
Photo Credit: Courtesy of The Walters