I've already told you that I visited the Bronze exhibition at the Royal Academy on my trip to London last fall, and loved it.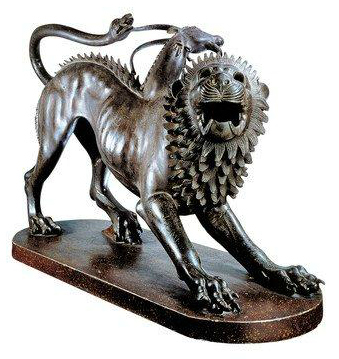 I didn't mention at the time that one of my favorites, among many, was the Etruscan Chimera of Arezzo — because I was hoping to write about it for the Masterpiece column in the Saturday Wall Street Journal. And now I have. In tomorrow's paper, you'll see it under the headline The Imaginary Turned Nearly Real. The Chimera is frightening on many levels, an impossible fusion of three animals that is more than 2,400 years old.
It was, according to the Bronze catalogue, "an omen of disaster" in mythology, but eventually slayed by the hero Bellerophon. Later — in an aside I did not have room to say in my WSJ piece — that story (which I do tell) turns into the legend of St. George slaying the dragon.
And here's another tidbit. According to The Guardian:
It was seeing a picture of the Chimera of Arezzo – the mythological lion and goat creature with a serpent's tail – on the spine of a book that first got the six-year-old David Ekserdjian excited about bronze. The scholar and curator's interest eventually resulted in what will be a landmark exhibition bringing together 150 works which span some 6,000 years.
So we can appreciate this sculpture for a couple of reasons.
Photo Credit: Scala / Art Resource, NY, via the WSJ