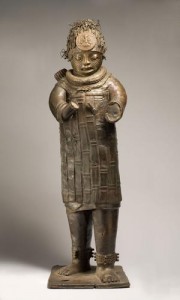 Necessity, we know, is the mother of invention — and that is surely the case with Bronze, on view at the Royal Academy in London until Dec. 9. This exhibit wasn't "planned" and wasn't scheduled far in advance, the way most exhibitions are. It happened when another show fell through, the RA had a hole in its schedule, and it called on a professor (and independent curator), David Ekserdjian, to fill it — he'd been thinking about the idea for years, and now he had a chance to make it a reality.
So, as the story goes, he had about 18 months to pull together what ended up being about 150 bronzes from all over the world and dating from 5,000 years ago to now. Fortunately, he knew where things were, and the Royal Academy many many requests. Ekserdjian ignored traditional art historical themes, chronologies and cultures, instead choosing to display these treasures in groups — the human figure, animals, groups, objects, reliefs, gods, heads and busts.
The first piece — the show stopper, in a way — is The Dancing Satyr, the ancient Greek torso discovered off the shore of Sicily in 1998, all cleaned up and tantalizing, because it makes you wonder what else is down in the sea. Some visitors will find the figure's stance to be awkward, and it is a little, but what a body.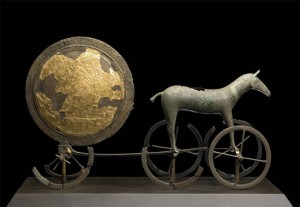 In the galleries, most of the big names are there: Ghiberti, Donatello, Cellini, Giambologna, De Vries, Rodin, Boccioni, Picasso, Brancusi, Johns, Moore, Beuys and Bourgeois, among them. But the most interesting works, to me, were unfamiliar ones. Nigeria contributed several objects —  not just the Ife heads we know, but wonderful other figures like a Bowman from the 14th or 15th Century (above left). And there's an elongated Etruscan piece that Giacometti must have channeled, if he didn't see it.
Another less known piece is the Chariot of the Sun (above right),  which dates to Denmark's Bronze Age, the 14th century BC. It was discovered in 1902 in a peat bog, and the experts postulate that it was part of a religious ceremony connected to worship of the sun. A more recent discovery, from Bulgaria, is a bust of a king (below right) — he dates to the 4th Century B.C. In the gods section, I was startled by an emaciated Buddha, which I'd never seen, though others in the room had.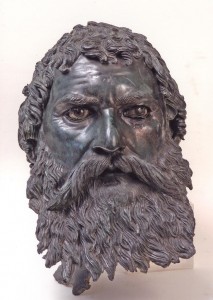 I write this post not just to praise this exhibition, which is well-executed even though many loans were denied and others, given the weight of bronze and the fragility of some pieces, were not available. I write to praise the idea — looking at art over the centuries through the medium of bronze constitutes a new window on these works. And I'm not sure it would have happened in the past.
I'm not sure it would work in other mediums, though clearly Bernini: Sculpting in Clay at the Metropolitan Museum is a more conventional variation on this theme. Coming in December at the Indianapolis Museum of Art will be Graphite, which is billed as the first major museum exhibition to explore graphite beyond drawings. The billing says the show "brings together recent artworks that reveal the material's potential to take a variety of forms while also yielding a wide range of visual effects. Carvings, powder, liquid, lumps, sticks and pencils are just a few ways the material can be presented."
And adds: "Graphite includes sculpture, drawing, and installation works created over the past decade—including several newly commissioned works—by emerging and established contemporary artists." Read more in the press release.
Many ideas for exhibitions aimed at making art more "accessible" are floating around, not all good — but Bronze is one I really like. I wish it could travel, but I'm afraid it can't.
Here's a link to some critical judgments.
Photo Credits: Courtesy of the Royal Academy