Before too much time passes, I want to call more attention to the feature published by The New York Times last Friday headlined Reflections. It was highlighted on Page One with a picture of Edward Hopper's Rooms by the Sea that was captioned Seeking Out the Bright to Battle the Cold?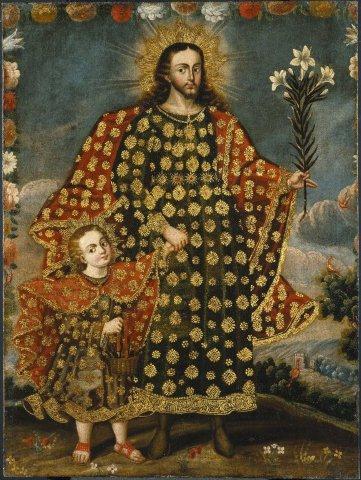 In it, the Times devoted considerable space to art works chosen by its four main art critics in which the artists captured light, which somehow was intended to help readers take their mind off the cold, dark winter days and the "indoor time still to come."
I am of two minds. I thought the idea was rather contrived and the execution a tad spotty. Much as I enjoy reading Holland Cotter's criticism, I found his choice of an Islamic plate, an example of lusterware, to be a stretch. It might brighten my day, but not because of the light. So, too, his selection of Saint Joseph and the Christ Child by an unknown Cuzco school artist, pictured at right — I love the painting but don't see any reason to single it out for special lighting effects.
The other critics mainly took their assignment more literally, chosing paintings by the likes of Georges de la Tour, Vermeer, Seurat, Hammershoi and Dan Flavin. You can't quarrel with those calls. Some were "predictable," but only to people who spend a lot of time with art.
On the other hand, I applaud the Times for devising an article that focused attention on museums' permanent collections or just on artworks, period, as part of the culture-pages mix. I wish they and other papers looked for more occasions to run art works. Back in 2009, I praised the Nelson-Atkins Museum here for this:
On Dec. 15 — enough time for planning — the PR department sent out an email with the subject line "Need Christmas Art?" and attaching a PDF listing of all the nativity scenes it holds in its collection for which it had high-res images: a dozen in all. 
All of this, of course, is about getting art into the world outside of museums in a way that will encourage people to go see for themselves.
Photo Credit: Courtesy of the Brooklyn Museum