The Nelson-Atkins Museum of Art did a smart, simple thing for the Christmas season the other day — small but smart and good for art.

It wasn't as brilliant as the move made by the Albright-Knox Art Gallery, which as you surely know by now announced in a press release on Tuesday morning that it would open its doors, free of charge, to American and Canadian active-duty service women and service men, plus their families, starting during these holidays and lasting throughout 2010. Adult admission to the Albright-Knox is $12, so the offer can save families a lot of money.
The offer includes even free parking — so the museum has thought this out well. Bravo, and a strawberry to director Louis Grachos, trustees, and whoever thought of this brainstorm.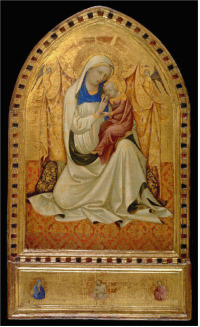 In Kansas City, the smaller idea was aimed at the media, which is always in search of good images. On Dec. 15 — enough time for planning — the PR department sent out an email with the subject line "Need Christmas Art?" and attaching a PDF listing of all the nativity scenes it holds in its collection for which it had high-res images: a dozen in all.
I chose one, Madonna of Humility, ca. 1410, by Don Lorenzo Monaco and assistant (Bartolomeo di Fruosino?), to illustrate what's available (though the tiny size here, as usual, does not do it justice; it's 44 7/16 by 26 3/16 inches).
The museum's PR department says that, as of Tuesday, only one newspaper, The Garden City Telegram, had asked for one of them, which it plans to run on its front page on Christmas day.
What a pity!
When I edited the Sunday Business section at The New York Times, I liked using real art even though the subject matter didn't overlap much. We certainly used a bulls and bears painting by William Holbrook Beard for one Sunday cover, and I tried at least once to use Otis Kaye's D'-jia-vu? (The Stock Market), but … failed to convince my art director. We also looked at other trompe-l'oeil paintings that included images of money, but none was quite right.
But a nativity scene on Christmas Day? What better way to illustrate the birth of Christ than with depictions of the scene that occupied so many great artists, many of whose works can be found in the nation's museums? Let's spread the idea next year to other cities.
Note To Readers: I'll be away for the next few days, not posting — back on Sunday night or Monday.
Photo: Courtesy Nelson-Atkins Museum of Art