I had no intention of writing again about Becoming van Gogh, the homegrown exhibition at the Denver Art Museum that chronicles precisely how Vincent taught himself to draw and develop the style that has made him so beloved and appreciated. I wrote about it on this blog twice in October, laying out why it was both so special and difficult for Denver museum curator Timothy Standring to do (here) and also about how its teaching moments were exceptional (here).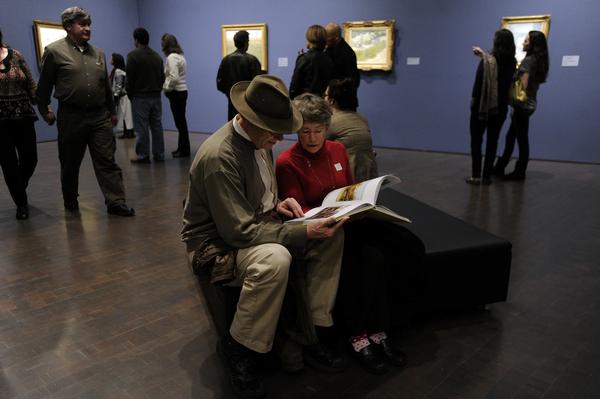 More recently, I mentioned that the exhibit was so popular that the museum was staying open overnight — allowing visitors to van Gogh from 8 a.m. on Saturday through 11:59 on Sunday night. The tickets sold out quickly. And even before that I knew — from talking with DAM director Christoph Heinrich when I was in Denver two weeks ago — that it was going to be a record-setter for the museum.
But today's report in the Denver Post  (which has some visitorship and new membership information) reminded me of something else I wanted to say about the show. Post reporter Ray Mark Rinaldi stopped in at 4 a.m. on Sunday, and caught the crowd "transitioning from the 'stayed ups' to the 'got ups' " and noted the "durable energy" in the galleries. Then he quotes a woman, there with her nine-year-old daughter, saying:
We live in Denver. We don't get a chance to see something like this often.
That is both heart-breaking and heart-warming to me. Of course, van Gogh is one of the most well-known artists — even people who know little about art know about him. And that's why some come to an exhibition like this, even when, say, the Toledo Museum of Art did not quite make its target for its recent Manet show.
But Denverites also seemed to have appreciated the fact that the exhibition was "made in Denver." It wasn't a traveling show. Standring told me recently that he's now recognized by people as he goes about their daily business. Denverites are taking pride in their museum, and that's a level up from simply attending a blockbuster.
Heretofore, as Rinaldi pointed out, "The museum's biggest hits tend to be traveling shows that make a stop here, such as 2010's display of King Tut treasures and and last year's Yves Saint Laurent fashion show."
Listen to a few reader comments posted after that Post article:
I saw another major Van Gogh exhibit in LA a decade ago and this one was every bit its match, not only in the quality of the works, but in the telling of the narrative. This was a major exhibition that any museum would have been proud to assemble. Congratulations to the DAM and the curator. You brought an amazing experience to this former cow town.
And:
Mr. Standring- Well done. I learned a lot and enjoyed the whole thing. And now I know where DAM is. Wasn't exactly a regular before.
It's a wonderful thing to create a blockbuster that draws in new people to an art museum — it's even greater to make the local community proud of an art museum they rarely visited before.
Photo Credit: Courtesy of the Denver Post