The Manet portraiture exhibition, which ended recently at the Toledo Museum of Art, has opened in London at the Royal Academy. It's getting the attention it deserves.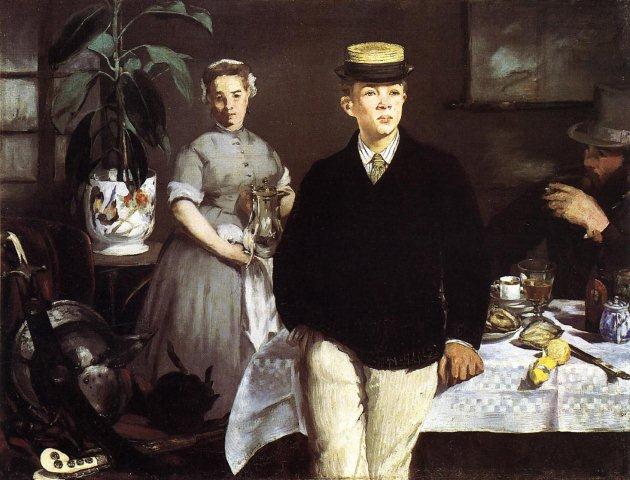 For a start, on Jan. 20, The Telegraph reported that "Advance bookings for the show are among the highest in the Academy's recent history, exceeding sales for its blockbuster Van Gogh exhibition in 2010. Several of the timed slots to see the show have already sold out."
As a result, the RA is opening on five Sunday evenings from 6:30 to 10 p.m. for an "enhanced" visitor experience with the show. It normally closes at 6 on Sundays, but for  £30 — double the normal £15 adult ticket for Manet — visitors can see the exhibit with a "limited number" of others. Plus, they get a drink, a gallery guide and an audio guide. More details here.
That's an interesting tact — and I favor it, despite comments from critics who say it's not democratic. Piffle — variable pricing, I've argued (see one 2009 article here) — should come to museums. As I mentioned there, the Metropolitan Museum has charged $50 for access to special exhibits on some Mondays, when it's normally closed, and in 2006 the Neue Galerie tried to charge $50 on Wednesdays, when the museum is normally open (free) only to members, to see the then newly-acquired Klimt Portrait of Adele Bloch-Bauer I.  Criticism changed the Galerie's plan, needlessly. I don't see this as elitist — no one blinks about skyboxes — I see it as experimental and practical.
Second, the Manet is getting some raves. The Independent named it "exhibition of the week."  Richard Dorment in The Telegraph gave it five stars, though he failed to mention Toledo's role in the organization and scholarship. The Telegraph has devoted much other space to the exhibition, including this one headlined Did Manet Have a Secret Son?
But there were some pans, or at least mixed reviews. The Guardian said it excelled as a biographical show but pointed out that it included some weak pastels. Brian Sewell in the Evening Standard wrote this (and much more — I encourage you to read the whole thing):
…the Royal Academy honours this singular painter with an exhibition, Manet: Portraying Life, in which 54 examples demonstrate his mischief, his obstinacy, his perception, his borrowings and subversions, his achievements and his failures. Divided into five themes and restricted to portraits and portrayal, it is a little too thin to serve him as well as it should and could, and for newcomers to this Outsider (neither Salonard nor Impressionist) it may not be easy to grasp his progress either to Le Déjeuner sur l'Herbe or from it to The Bar at the Folies-Bergère, the alpha and omega of his major paintings — though in this exhibition the Déjeuner is the much smaller and later version from the Courtauld Gallery and The Bar is omitted from it. It must be said too that at least a dozen paintings and pastels…are bad enough to convince the newcomer that Manet does not merit his reputation as a master….
Well, maybe Sewell is right or maybe he was having a bad day.
On another front, close readers of the comments on RCA already had a preview of this: The Manet exhibition has been selected as the subject of an "event film" that will be shown on cinema screens worldwide, just as Leonardo Live was a year ago. Manet: Portraying Live will premiere at the movies on Apr. 11 in the UK and in about 30 other countries, including the U.S. This time, the producers were not forced to produce a live broadcast, which created silly moments in Leonardo. I expect that this time the result will be much better.
Stay tuned for more details here in the coming weeks.
Photo Credit: Courtesy of the Neue Pinakothek, Munich