Rocco Landesman has left the building. The now-former chairman of the National Endowment for the Arts departed the other day, but not without granting an exit interview to The Washington Post. Interesting choice — maybe The New York Times didn't ask (it probably didn't) but as I recall Landesmann made a small mistake at the start of his term by giving the NYT his first interview instead of the Post, which of course is what everyone in Washington reads first. He learns.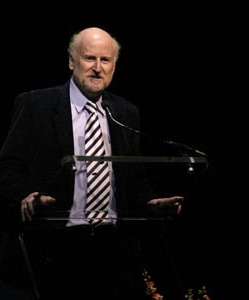 Landesman — not my favorite NEA chief, as Real Clear Arts readers know — exits taking a bow, according to the Post. Despite early gaffes, he earned credit by building ties to other federal agencies, which had more money, and eliciting new support from the private sector for investing in arts places in various communities. According to the Post:
The resulting "ArtPlace" consortium of foundations, financial institutions and federal agencies, including NEA, has awarded 80 grants to 46 communities, totaling nearly $27 million.

More than half of that is new money, says Robert Lynch, head of Americans for the Arts…
That's not bad, if only a drop in the ocean in terms of money.
While I don't agree with everything he said or did by a long shot, I give Landesman credit for being practical. Despite early comments about restoring grants to individual artists, for example, he recognized it wasn't going to happen and moved on to other things — but not without finding a small way around the restriction.
There's been way too much hand-wringing about that particular aspect of NEA funding, anyway. As long as the battle lines are formed around that issue, NEA funding is not going to grow. And maybe it shouldn't — that's heresy to some people in the arts, I know, but it's time to rethink it.