When I wrote about Getty Museum's purchase yesterday of Roman de Gillion de Trazegnies, by Lieven van Lathem, at Sotheby's, I'd forgotten that a magnificent Raphael drawing was in the same sale. It scored a record in British pounds — £29.7 million or $47,869,045. That is almost three times the low estimate (which of course does not include the premium) of £10 million and double the high, £15 million.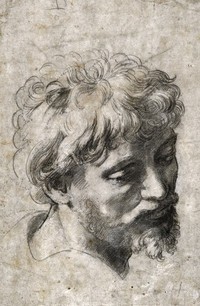 The work, Head of an Apostle, came from Chatsworth and according to various analysts is probably headed to Russia. "The buyer was not identified but the winning bid went to a member of Sotheby's staff who often represents Russian clients," wrote The Independent. It also reported:
… the 16th century "Head of an Apostle", a study for Raphael's last painting "Transfiguration" which is on display at the Vatican Museum in Rome. When the artist died in 1520, his body was laid out in state in his studio with the Transfiguration hanging at his head.

…According to Sotheby's, only two other Raphael drawings of the same calibre have been auctioned in the last 50 years – in 2009, Raphael's black chalk "Head of a Muse" sold for 29.2 million pounds at Christie's in London.

In dollar terms, that picture narrowly trumped Head of an Apostle due to fluctuating exchange rates, but since both were sold in pounds in London, Sotheby's is claiming the crown.
Sotheby's reported that four bidders in the salesroom and on the phone vied for 17 minutes for the drawing. The total sale brought £58,061,500 (or $93,513,852) against a presale estimate of £35.6-52.9 million. Seven additional records were set in the evening sale, and it was 74.5% sold by lot and 86.8% by value, Nine works fetched more than £1 million and 11 works sold for more than $1 million. "Of the lots sold, half achieved prices over their pre-sale high estimate."
ArtFixDaily, meanwhile, also reported that the rival drawing, Head of a Muse, was purchases by Leon Black for £29,161,250 million pounds (then reportedly $47,941,095) at Christie's in London three years ago.
That was good night. Regular followers know that I like the work of Gerard Richter, but I am still pleased that Raphael beat out his recent record, set in London in October, for the most expensive work by a living artist — an abstract work for £21.3 million or  $34.2 million.
Photo Credit: Courtesy of Sotheby's