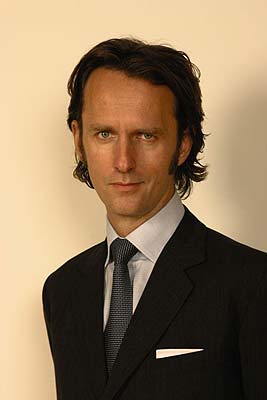 I have to think that even Andy Warhol — maybe especially Andy Warhol — would laugh at a comment made recently by Tobias Meyer (ar right), the worldwide head of contemporary art at Sotheby's recently. To wit:
"It has the intensity of a great Warhol or a great Bacon."
The "it" under discussion was the Raphael drawing sold by Sotheby's on behalf of Chatsworth on Dec. 5. Head of An Apostle fetched nearly $47.9 million after intense bidding. It's an amazing piece of work that at least one expert I know thinks is Raphael's best drawing in private hands. And maybe his best drawing ever.
What was Meyer thinking?
Elsewhere in the video, Sotheby's experts Gregory Rubinstein and Christiana Romalli talk about Raphael's career and laud this drawing properly as the "most intensely moving, powerful and wonderful drawing" Sotheby's has ever handled. I wonder what they thought of Meyer's comment. And I wonder who made the video and actually decided to use that quote.
Meyer goes on to say: "This is the greatest drawing by one of the greatest artists in the world." Good recovery. But it hard for me to believe that he would make the comparison between Raphael and Warhol or Bacon — more so because Meyer not only thinks it, but said it — out loud, on a recording. There's no room to deny it. See the video for yourself here (the second one, "Raphael: Renaissance Masters from Chatsworth."
I asked the aforementioned anonymous, highly respected expert if we should laugh or cry. "Both," he replied.
Photo Credit: Courtesy of The Telegraph