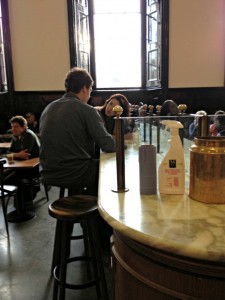 This is a test, so don't look below just yet, please.
I've written in the past about the goal of so many museums to become "town squares," leaving behind their past as "cultural cathedrals." I prefer the cultural cathedral metaphor — art museums as a place for really looking at art, for seeking inspiration and enlightenment, sometimes for reaching for an almost spiritual experience. The concept of becoming a town square may or may not exclude those goals — depending on the noise and activity levels that are fostered — but the concept certainly makes them harder.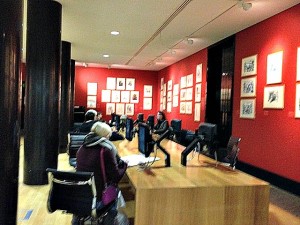 And yet, the two are not mutually exclusive. It's perfectly all right — even a laudable goal — for museums to want people to come to common areas, like restaurants and coffee bars, to seek social interaction. I think that's great, as long as it doesn't make the other goals impossible for those would-be cathedral-goers.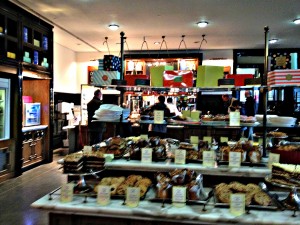 So here I have posted several pictures I took recently at a museum with my cell phone (pardon the quality). I snapped two venues on a Wednesday afternoon. In the one with red walls, people were communing with art, via computers, as well as with each other. In the other place, it was all about eating and being social — it was completely accessible from the outside. One did not have to go into the museum to use this cafe, and many there clearly had not. The museum presumably was, though, earning a profit on the food it sold — which looked quite a bit more appetizing than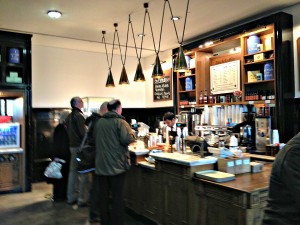 some museum fare. (I sampled a slice of quiche, and it was just ok, however — but it was mid-afternoon, long past lunch and therefore probably long past its prime. Bad choice on my part. The sweets looked delicious.)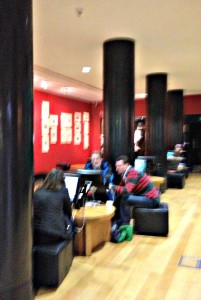 Notice the lack of school children beefing up the attendance numbers. Notice the mix of ages, the presence of men.
Now guess which museum this is.
First, a hint: From the outside, this museum is an example of what people frequently label as "intimidating," ridiculously. It dates to the mid-1800s. But it doesn't look as if it's scaring ordinary people away, does it?
Second, this museum is full of old art. Its collection extends from the 13th century only to the 19th. No Warhol here. Its director recently blasted the cookie-cutter approach to contemporary collecting, and questioned the legitimacy of certain categories.
Yet it draws. Admittedly, this museum has a big tourist base.
Ok, you know now — It's the National Gallery in London. I admit this may be a bit unfair — but I can't think of another museum I've been in that has added this social aspect so successfully without ruining the experience for awe-seekers. Maybe the Met, but it has so much more room, more kinds of art, to work with.