On my recent trip to London, I also visited the Tate Modern — whose permanent collection galleries were pretty jammed on a Saturday. I discovered, or rediscovered, several artists that are too little known in the United States or too little shown in U.S. museums. Among them, I'd put Meredith Frampton, Maria Helena Vieira da Silva, Barkely L. Henricks, and Dod Procter. There were others.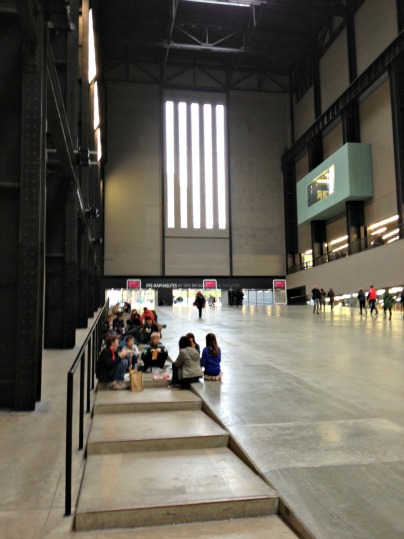 The Tate's play area for kids, all done up in red, with computers, was full not just with children but with teenagers who were sitting there using their cell phones. Now, they may have been listening to cell phone tours, but I doubt it.
They point to one criticism I have of the Tate — not enough seating. It's a big museum, which takes a long time to visit if you're going to look at more than a gallery or two. But aside from the restaurants — which are nice — there are few places to rest. Take a gander at the picture I took of the Turbine Hall. There were even more people in the foreground, sitting on the steps, when I dug into my purse to get out my cell phone, but they left before I could turn it on.
(Another pet peeve I have about the Tate and other UK museums: granted, they are free, but asking me to a pound for the gallery plan was annoying. I guess I dislike being nickeled and dimed.)
This was my first visit to the Oil Tanks, which opened in the summer. They are cool, no question — I didn't love the installation of Sung Hwan Kim, which was commissioned by the Tate for the tanks; it is quite confusing to navigate in the dark. But I was glad I saw it, and it does show the potential of the tanks' spaces.
An installation by William Kentridge was next door — and seemed more successful, to me. Suzanne Lacy's Crystal Quilt was very clever.
In the special exhibition galleries, a show of photography by William Klein and Daido Moriyama was very cleverly installed — in a mirror image configuration. It's actually two retrospectives, of one artist who inspired the other, displayed side by side. Visitors can compare and contrast.
But what about the growth I mention in the headline? Even if I had not just visited, I might have written here about the plan announced by the Tate on Nov. 2. That's when it said it was starting a program to acquire more modern and contemporary African art and two-year project entitled Across the Board which will commence on Nov. 24 and will consist of a series of events featuring emerging African artists and exploring recent practices on the continent.
The release continues:
In summer 2013 Tate Modern will dedicate a wing of its galleries to two of the most important African artists working today. A seminal work in the recent history of African art, Museum of Contemporary African Art 1997–2002 by Meschac Gaba (b.1961, Benin) has been acquired by Tate and will be displayed in its entirety for the first time in the UK next year. Consisting of twelve sections, including a Games Room, Marriage Room, Music Room and Salon, this work challenges preconceived notions of African art. This work has been part gifted by the artist and part purchased by Tate through the Acquisitions Fund for African Art supported by Guaranty Trust Bank plc.

The UK's first major exhibition of painter Ibrahim El-Salahi (b.1930, Sudan), Ibrahim El-Salahi: A Visionary Modernist will bring together approximately 100 works from across more than five decades of El-Salahi's international career, this retrospective will highlight one of the most significant figures in African and Arab Modernism and reveal his place in a broader art historical context.
The Tate got this initiative financed by Guaranty Trust Bank — and bravo for that.
I bring this up as an example of how museums are struggling to deal with contemporary art made in places like Africa and the Middle East — Should be integrated with other contemporary art? should it be segregated by geography? Does it depend? We don't have definite answers for that — or even a trend.