This is a corollary to the item I posted other day about the death of authenticity. In search of attendance, art museums — as well as those of other stripes — are deviating from their true missions. As they do, they risk their authenticity.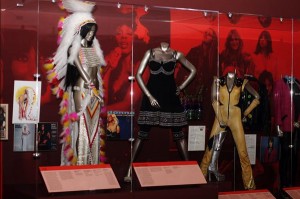 Here's just one example: On Friday, Women Who Rock: Vision, Passion, Power, opened at the National Museum of Women in the Arts. The exhibit, organized by the Rock and Roll Hall of Fame in Cleveland, was a long overdue examination of the role many pioneering women played in the rock revolution — starting from the beginning. I happened to have seen it while in Cleveland last September, and I not only enjoyed it but also thought it was, for the most part, well done. It goes back to Ma Rainey and Billie Holiday and continues through a few stars of today. You can read the details here and review the included artists here, along with what related to them is on view. Nicely, the NMWA has also posted texts of the wall labels.
But does this show belong at the NMWA? Here's its mission statement:
The National Museum of Women in the Arts brings recognition to the achievements of women artists of all periods and nationalities by exhibiting, preserving, acquiring, and researching art by women and by teaching the public about their accomplishments.
Pretty basic, and perhaps rock music could slip into that definition were it not for the museum's history, cited on the same webpage. Wilhelmina Cole Holladay collected visual art, and aimed to put female visual artists into the mainstream of art history. I don't think rock-and-roll shows, like the one here, are genuinely part of that mission, even taking an expansive view of it. 
What's in this show is video, vinyl records and record covers, dresses worn at performances, music clips, and the like.
There are legitimate art shows about rock and roll, one being Who Shot Rock & Roll: A Photographic History, 1955 to the Present, which was organized by the Brooklyn Museum, shown there in 2009-10, and has been on tour. Some critics disputed its contents, though not the concept (The New York Times, for example, said its contents were chosen "mainly on the fame, charisma and notoriety of its subjects" rather than aesthetics, but still called it "entertaining and sometimes absorbing."), but photography is part of the visual arts. Some pieces in that exhibit were photojournalism, but wasn't Otto Dix's war series, say, documentary in nature? 
Last spring, I wrote here about the first 25 years of the NMWA, I mentioned that attendance overall was 2.5 million — an average of 100,000 a year. In Washington, D.C., that beats the ailing Corcoran's most recent year (85,441), but not by much. WomenWho Rock will help increase attendance, I'll bet. But to what end? As I wrote the other day, "it's important for them to keep authenticity in mind when [museums] design initiatives intended to lure broader audiences."  The mission, too.
Photo Credit: Courtesy Rock Cellar Magazine