Just in case you thought that cultural authorities in Berlin might cave in to pressure regarding the future of its Old Master collection, here's a dose of reality. They continue to wage war, even though they have ordered up a "feasibility study" to assess alternatives to the original plans, which would send most of the city's magnificent Old Masters collection into storage for an undetermined number of years, while a new museum is supposedly built on Museum Island, and integrate the rest into the already filled galleries of the Bode Museum.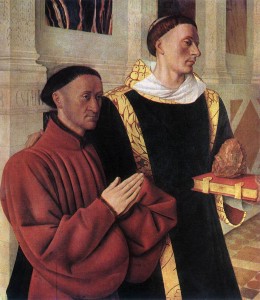 As I noted on Sept. 12, the Prussian Cultural Heritage Foundation thinks that its plan to devote the Gemaldegalerie (now home to the Old Masters) to the Pietzch collection of modern art without adequate assurances that the Old Masters will not go into storage is just fine — and they are pulling out big guns to support it, an effort to counter the many who oppose it.
On Saturday, Thomas W. Gaehtgens, director of the Getty Research Institute, weighed in, supporting the move in Neue Zurcher Zeitung (NZZa). He begins by saying that no one goes to the Gemaldegalerie — the same argument made at the outset by the Berlin authorities.
That follows a show of support by Metropolitan Museum director Thomas P. Campbell, who — inexplicably to some curators on his staff — wrote a letter to The Art Newspaper agreeing with the plan. (It was published in the print edition only and is not online.)  The Art Newspaper has published online three additional letters of support for the plan, but — to my knowledge — only one, by Jeffrey Hamburger of Harvard, against — so far.
The petition Hamburger started, btw, is now up to 13,703 signatures.
I expect more such letters and articles in the coming months, some orchestrated by the Prussian Cultural Heritage Foundation. The Met, the Getty and other museums — and their directors — have a vested interest in pleasing the Prussians. They need to borrow art from them down the road — as they have in the past. It takes no courage on their part to support the plan; it's simply an act of cozying up to friends and would-be friends. It does take courage for the curators who have signed petitions to put their names on it — there may be retribution in the form of loans denied.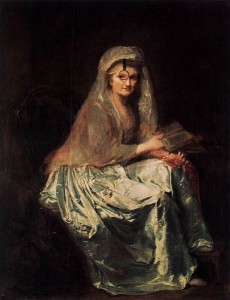 I have rarely — have I ever? — turned over space here to someone else. But former museum director Tom Freudenheim has sent this on-the-ground report, which I am pasting, in somewhat edited form, here:
Nothing has changed since my time living in Berlin, over a decade ago: the same terrible (German-only) signage outside and in ('Gemäldegalerie' doesn't qualify for Esperanto-like signaling that it's a place to see old master paintings), and the same sad feeling that the proprietors would just as soon keep out potential visitors….The paucity of visitors on a sunny fall week-day afternoon bore that out [but]… isn't this solitude a lot better than fighting crowds at the Louvre?

When — and if — the notably argumentative Berliners manage to develop plans (and funding) for [a] new museum [for the Old Master paintings], it may turn out to be wonderful; but replicating the current purpose-built galleries that opened in 1998 will be an incredibly hard act to follow. They are subtly perfect in almost every way, albeit connected by an odd central courtyard.

Meanwhile, try playing the triage game that kept me busy for a couple of hours: which paintings would I keep on view and which would I place into storage for an indefinite period of time…Hopeless task. Let's see, how about the "lesser" masters? So I start with the riveting Christoph Amberger portrait of Charles V, the wonderful Jean Fouquet double portrait of Étienne Chevalier and St. Stephen [above left], the Hugo van der Goes Monforte Altar — no one has ever heard of these guys anyway. And…there are so many works by Rogier van der Weyden and Jan van Eyck, Rembrandt and Hals, Cranach, Durer, Holbein and Altdorfer…One or two would suffice!

…Surely we don't need to give in to feminist issues by pretending that the brilliant 1777 Self Portrait by Anna Therbusch [above right] warrants our attention. And considering that there's a real Caravaggio, why bother with spectacular Caravaggiesque paintings such as Honthorst's Calling of Peter? OK – I found one to omit: Dürer's Madonna with the Siskin (a bird); is it a terrible painting or in bad condition? Dunno. But my guess is that Dürer scholars would miss it.

I gave up my triage exercise by the time I got to the Italians, wondering whether this was my last chance to luxuriate in one of the world's great collections. The issue here isn't whether a new permanent home might not be a good idea. It's how managerial ineptitude could have placed the museums (and therefore their scholarly and general public) into such a bind that the potential "deal" (if it really is a deal) with the Pietzsch's could be subject to that kind of tradeoff.
Let's keep repeating that: this has never been a Modern vs. Old Master fight, as the original petition made clear in the first paragraph. But that's how the Pietzch-backers want to portray it — the new against the old — when, really, they made a bad deal.
UPDATE, 9/26: No sooner had I written and published this then, indeed, another heavyweight museum director published a piece agreeing with the Prussian Cultural Heritage Foundation's plan. Here's Ian Wardropper, director of the Frick, in Die Welt.