Yesterday, the Prussian Cultural Heritage Foundation took a step forward toward possibly resolving the contentious battle over the fate of Berlin's Old Master collection. As you may recall from my previous posts (here and here), the donation of a large 20th century art collection and demands by its giver had led the Foundation to a specious plan: moving the older paintings into the already full Bode Museum and into storage (supposedly temporarily, but with no set timeframe and no money allocated for new quarters) to make way for the gift.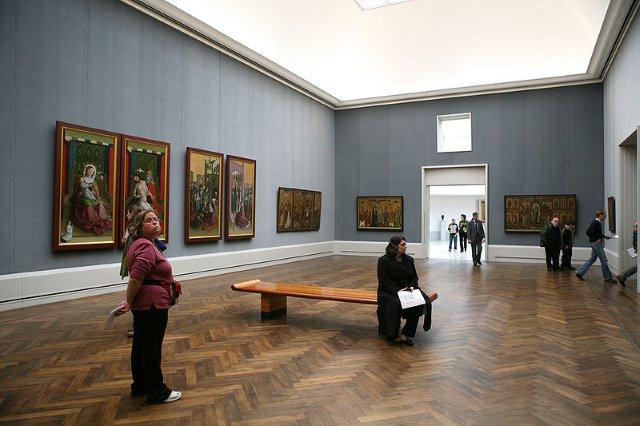 Opponents here and then in Germany launched petitions against this appalling plan. (See the petition, and sign it, here). The U.S. petition has more than 13,000 signatories.
Pressed by the outcry, the Foundation has now said it will begin a feasibility study to look at alternatives to its original plans, though it repeated its belief that the leadership's original stance was correct. (It's hard to admit when you are wrong.) If you can read German, the text is here. There is also a good article in today's Berliner Zeitung. Just plug it into Google Translate and you can get the gist.
The study will ostensibly look at keeping the Old Masters in the Gemaldegalerie and at moving them to a new building near the Bode; better, the statement said it would commit to a binding timeline for a move to a new display of the Old Masters.
Jeffrey Hamburger, the Harvard professor who took up the cause, wrote and posted the petition here, and remains on the case told me last night that this is "real progress," but remains wary. And I agree, the opponents must remain vigilant — or the Foundation will take it as a sign that all is dandy.
Here's a statement Hamburger gave to Der Spiegel:
It is gratifying to see that the Foundation is taking steps to respond to its critics in a constructive fashion. Their willingness to explore alternatives represents progress, albeit compromised by their statement that they are doing so "in order to avoid any appearance of hasty decisions." No less welcome is the commissioning of a feasibility study, although one is left to wonder what the need for such a study at this late date says about the years of planning that supposedly took place previously. The public recognition that any such study needs to take into account progress (or lack thereof) on the Foundation's many other current projects also represents an important concession.
 The study is due by spring.