The 1960 Rothko that I revealed on Saturday as being purchased by the Crystal Bridges Museum of American Art is not the only addition to the Bentonville museum's collection since its opening last November. My article in the Wall Street Journal had room for me to mention a few others, but not in detail. And, in fact there's even more than I was able even to hint at.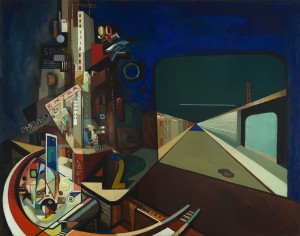 For a start, the museum has received about 20 works of art as gifts, mainly from artists' estates and foundations. There have been some individual donors as well, including Donna and Arthur Hartman, the former ambassador, who gave a 1902 painting called The Midinette by Alfred Henry Maurer. (The museum declined to release the names of other donors.)
More important, museum director Don Bacigalupi and I talked about about the museum's collecting strategy. He seemed a little tired by the expectations or suggestions made by others (including me) about holes in the permanent collection and said the museum is not filling gaps. "It's more complicated than that," he says. "We are not replicating any institutional story of American art. There's a multiplicity of stories. So we don't have a linear strategy for collecting or a checklist of artists we want to purchase. We are looking very broadly, and some names are blue-chip and some are at the margins."
Bacigalupi said that the museum assessed the Pollock (as well as the $86.9 million Rothko) that was up for sale at Christie's last spring,  but decided the Pollock wasn't "the right Pollock." Unfortunately, I spoke with him before Sotheby's announced on Sept. 7 that it will sell another Pollock drip painting, Number 4, from 1951 (est. $25/35 million) in November, and could not ask about that.
That price would be a leap for Crystal Bridges so soon after the Rothko, however. The museum draws down about $15 million a year from its acquisitions endowment, and Bacigalupi said that — like other museums — it also depends on "friends" to contribute to purchases. He added that the museum "is working with a number of artists' estates" on gifts or purchases (maybe even loans?).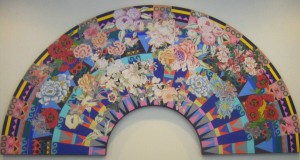 Now a few details about the works I mentioned in passing in the WSJ article: the Thomas Hart Benton is called Tobacco Sorters,  from 1942/1944; the Theodore Roszak is 42nd Street (Times Square), from 1936 (above left); and the Miriam Schapiro is a collage from 1984 called A Mayan Garden (at right). 
The museum has also acquired Ammi Phillips'a Woman in Black Ruffled Dress, ca.1835. That large print collection I mentioned, with a few big names, also includes works by Martin Lewis, Benton Spruance, Ida Abelman, Minna Citron, Mabel Dwight, Jolan Gross-Bettelheim, Riva Helfond and Bernarda Bryson Shahn.
Here's what curator Kevin Murphy wrote about that collection (in part):
The prints address subjects and themes concerning artists and society during the tumultuous years encompassing the roaring 20s, Great Depression, and World War II.  As Americans flocked to cities, printmakers depicted the promise and peril of skyscrapers, bridges, subways, and factories.  Artists were equally drawn to rural America, and documented the increasing industrialization of previously bucolic land.  The Great Depression loomed large in the consciousness of printmakers.  Artists, often on the margins of the workforce themselves, demonstrated their sympathy with the unemployed and those workers who protested against exploitative-sometimes deadly-labor practices.  Artists mobilized in service of America's entry into World War II, creating uplifting images of soldiers and the home front.  As a whole, the print collection provides an unflinching look at the 1920s, 1930s, and 1940s, but foregrounds the dignity of human labor and achievement in an increasingly mechanized age. 
Bacigalupi said visitors who went to Crystal Bridges last fall would see different things today — some galleries have been rehung as works are acquired and others have moved from the first temporary exhibition, Wonder World, into the permanent collection galleries. 
Photo Credit: Courtesty of Crystal Bridges (btw, I think the color in Rothko's No. 210/No. 211 reproduced here in Saturday's post and in the WSJ is too red — but I can't quite fix it.)