Most reviews of the Crystal Bridges Museum of American Art, including my own in the Wall Street Journal, noted that the best works came in the first few pavilions, before the art from the '50s through now. I noted that Alice Walton, the benefactor, had passed up opportunities to buy major works by Mark Roth, Andy Warhol and Clyfford Still in the last few years. Her heart, I am guessing, just wasn't in that period of art — though officials in Bentonville more often bemoaned the lack of opportunity.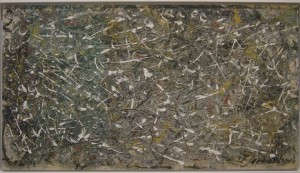 Now they have another chance, and we shall see what happens. As reported in today's New York Times, Christie's will soon auction many works from the collection of David and Geraldine Pincus. The works on the block include at least two major works that would look great in Crystal Bridges.
One is Rothko's Orange, Red, Yellow from 1961, an 8 ft by 7 ft painting of orange and red. Estimate: $35 million to $45 million.
The other, possibly more likely, is Pollock's No. 28 (at right), from 1951, estimated at $20 million to $30 million, which was in the Pollock show at the Museum of Modern Art a few years back.
According to Christie's, the Pincuses bought the work in the late 60s, "from the famed collection of Mr. and Mrs.
Arnold H. Maremont of Chicago, through Harold and Hester Diamond from whom the Pincuses acquired
the work." It measures 38 x 54 inches and "is distinguished by its black enamel and silver grey paint with pourings and drips of white, red and yellow. There has not been a Jackson Pollock of this quality or scale at auction since 1997."
It's pricey, no question. Crystal Bridges likely could not purchase it on its own, without help from Walton, despite it $325 million acquisitions endowment. Will she come up with the money? Or would Geraldine Pincus, the consignor, do a private treaty sale for less money to see the work go to a museum?