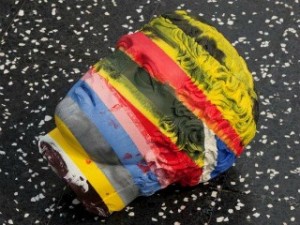 If one of her first projects is an indication, I like the way Cecilia Alemani, the new art curator at the High Line, thinks. Alemani joined the High Line last October, and in a Q&A she did for the park's spring newsletter, she was answered a question about her plans this way:
As soon as I joined the High Line, people started asking me what my first  big bronze sculpture would be. I think it's funny how people put art in silos, assuming that "public art" means monumental sculptures in corporate plazas and government buildings. To react to this, I decided to do a show of very tiny objects to debut in HIGH LINE COMMISSIONS. The show will be called Lilliput. It will be the High Line's first group exhibition, with a series of miniature sculptures installed in peculiar places along the High Line.
She's right; people do have certain expections — and sometimes the best way to create interest is to defy them. Alemandi is doing it in a way that doesn't employ shock value, which is often the fallback position. I like that.
The High Line website has more about the show, which opened on Apr. 19 and continues for a year. It involves six artists — names and projects are here — who made and sited their pieces among the vegetation and along the pathways. For visitors, it's an art treasure hunt.  "Throughout the different seasons, nature will embrace the sculptures, transforming their surroundings and acting as a backdrop in continuous flux," Alemani says, looking forward to the way the art works will blend with, or not, the landscape over the course of the year.
The artists Alemani chose are all, but one, foreign-born, as is the curator. That's not a complaint, just an observation.
They're lucky: the  High Line is an incredible venue for exposure. Since it opened in June 2009, more than 7 million people have visited.
Photo Credit: Herakles by Oliver Laric, one of the artists in the exhibition, Courtesy of the High Line