People, it seems to me, really like to look at art outside, which accounts for the popularity of sculpture parks and rooftop exhibitions. It's a two-fer.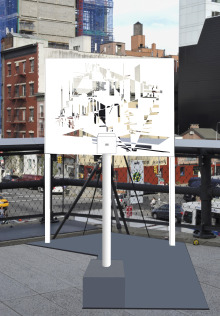 That's one of the things the High Line, Manhattan's new elevated park, has discovered (anecdotally), and that's why I proposed an article to The Art Newspaper on Lauren Ross, the curator it hired last May. It was published last Friday (here). The High Line has already had about 2 million visitors since last June, and yes, people go for the park and the view, but they're looking at the art, too.
My article talked about the upcoming installations, one large one and two smaller pieces:
a sound work by Stephen Vitiello, which will open in June, will fill a a tunnel-like passage at 14th Street with 59 bell tones from throughout the city and state, recorded in places like churches, bicycles and the New York stock exchange.
Viewing Station by Richard Galpin, who manipulates photographs of cityscapes by removing the colored emulsion, baring the paper underneath and leaving a constructivist-style image. He then creates a metal screen, also cut to mimic the geometry of the photograph; viewers look through that to get his abstracted view of the city (rendering above).
Kim Beck will make the third work (similar to that below, which is called Space Available, and was installed at the Pittsburgh Center for the Arts in 2008), debut TBD, consisting of three blank billboard-style works that refer to empty storefronts and other indicators of the recession. It'll be installed on rooftops close to the High Line.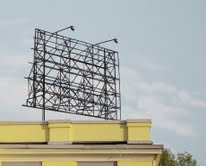 Some things I learned when speaking with Ross were inevitably left on the cutting-room floor, including Ross's comment (in the wake of her tenure as Interim Curator of the Elizabeth A. Sackler Center for Feminist Art at the Brooklyn Museum) that while "feminist art is very important to me," she "won't keep a running count" of commissions to male and female artists. But she does promise that women and men will be equal in her commissions, over time.
I don't have a sample of Vitiello's piece for the High Line, but as it happens, his new installation — Something Like Fireworks — recently opened at the Davis Museum and Cultural Center at Wellesley College. Here's a taste of that.
There will be two additional commissions this year, and more next year, and…
Photo Credits: Courtesy of the High Line and the artists