How good a marketing tool is Facebook? That question was posed in my Feb. 29 post here about the Detroit Institute of Arts, which offered Facebook fans free admission during March.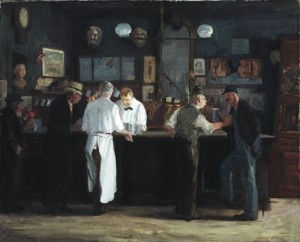 Now we know, and the answer is pretty good. The DIA says that 3,335 visitors took advantage of the free offer — an average of almost 160 people for each of the 21 days (the institute is closed Mondays and Tuesdays) of that month.
Visitorship overall during the month was also higher, year-on-year, despite the fact that there was no blockbuster exhibition. To get a fair comparison, the DIA subtracted school groups, which were also higher this year, and came up with this apples-to-apples comparison.
In 2012, March had 13,421 visitors versus 9,626 visitors in the same month last year, for a net increase of 3,795.
"Essentially, this indicates that the Facebook free admission promotion resulted in no decrease in general admission revenue over last year," wrote Christine Kloostra, the director of marketing, in an internal email shared with me.
When, on Feb. 24, the DIA announced the free admission to those who "like" it on Facebook, the museum had just over 97,000 such fans and was seeking to top 100,000. When I checked just now, it had 115,738.
The response to the museum by new visitors was good, judging by comments posted on the DIA's wall, too:
"Today was a fantastic day at the DIA, thank you! It was my first time attending and there were so many wonderful pieces to see. My family and I will certainly be back soon!" ~Anna Calhoun, Mar. 12
"Just went yesterday and it blew me away. Definitely returning." ~Mollie Nasser, Mar. 10
"THANKS!! Will be visiting for the first time next week!" ~Candice Perdan, Mar. 9
"Don't you just love The DIA for doing this!!!" ~Edie Lovejoy, Mar. 9.
"This is the most awesomest things the DIA has done in a long time. When I go, I'm gonna spend extra $$$ at the cafe and gift shop!!" ~Rob Kaplovitz, Mar. 1
Indeed, don't you love it — especially the last sentiment? You can read more comments here.
And whoever at DIA thought of this should be given a treat, perhaps a drink at a place like John Sloan's McSorley's Bar, above, which is in the DIA's collection.
Photo Credit: Courtesy of the DIA