The Detroit Institute of Arts sent me a press release today that, at first, made me chuckle. It wasn't about art at all — it was about the number of people who "like" the DIA on Facebook — or, as the DIA says, its Facebook fans. They now number more than 100,000. In fact, when I checked this evening, they numbered 102,758 — are probably growing fast.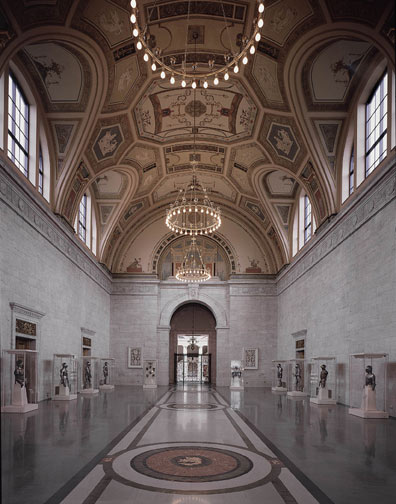 There's a reason. The DIA is offering its Facebook fans free admission during the month of March. Furthermore, one such pass admits four people. Coming off a strong turnout for "Rembrandt and Jesus," this is smart marketing. (see update, below.)
The press release cites Museum Analytics, a website that tracks museums' social-media audiences, for comparison numbers. It says that, as of Feb. 28, only six U.S. art museums have more Facebook fans than the DIA, and they are all in New York.
The Museum of Modern Art has the largest number among museums worldwide, with 978,838 fans when I checked, while the Met has 610,000. The Whitney Museum of American Art has 145,317, the DIA said.
Detroit also stacked itself up against non-NYC museums (I did not double-check these):  Art Institute of Chicago, 97,095; Museum of Fine Arts, Boston, 56,280; Philadelphia Museum of Art, 32,612; Cleveland Museum of Art, 22,168; and Toledo Museum of Art, 31,545.
I checked a few others: Museum of Fine Arts, Houston, 20,633; Seattle Art Museum, 32,807; Los Angeles County Museum of Art, a surprisingly low 78,818, and the Dallas Museum of Art, 28,748.
These numbers are changing all the time — and spending a lot of time and effort to build them is probably over-rated. But the DIA was enterprising when, on Feb. 24, it announced the free pass offer with a goal of reaching 100,000. On that day, it had just over 97,000 fans.
The point is conversion — I'll look for press release that says how many fans took up the DIA's offer and visited the museum's stellar collection. Here's what else they'll see.
UPDATE: Here are some specifics on the "Rembrandt and Jesus" exhibition at the DIA:
–116,392 visitors to the show
–More than 4,800 new and renewed memberships were purchased during the run of the exhibition
–CaféDIA saw an almost 50% increase in customers.
–Visitors came from 48 states, including Hawaii and Alaska. Group sales were robust, and tours were booked as early as last spring. In addition to metro Detroit, groups came from Grand Rapids, Kalamazoo, Battle Creek, Ohio, Indiana, Iowa, and Windsor, Canada.
–Private third-party rentals for the show: 22 bookings and a total of 1590 visitors. Some of the organizations that booked private events include the Harvard Club of Eastern Michigan, Archdiocese of Detroit, University of Pennsylvania, and the College of Wooster in Ohio.
–Both the hard and soft cover exhibition catalogs sold out, as did the postcards that feature the DIA's Face of Jesus. Very strong store sales, period, especially for Dutch candies (!).
Photo Credit: The DIA's Great Hall, Courtesy of the museum