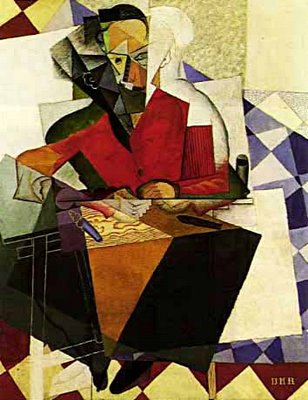 Do good things come in threes — including exhibitions? Maybe these museums are aiming to create a festival atmosphere, or maybe it's just coincidence… whichever, having three shows on one theme can be a good way to appeal to audiences. Let me highlight three examples, from places that don't get enough national attention:
1) Since January 28, the El Paso Museum of Art has been showing three exhibitions under the title Magnificent Mexico:  20th Century Modern Masterworks. With 91 works borrowed from collections in Mexico City, these shows include Diego Rivera (his El Arquiteco is shown at right), Jose Clemente Orozco, David Alfaro Siqueiros, and Rufino Tamayo and 47 other artists. In a large museum, that may be one show. But the El Paso museum was founded only in 1959, has just over 5,000 works of art in its permanent collection and attracts about 100,000 visitors a year. I know much bigger museums that get less, although — in fairness — it can draw on a 2.6 million-plus metropolitan population, is the only accredited museum in a 250-mile radius, and is just blocks from the U.S.-Mexican border.
The threes shows —  Magnitud Mexicana: Visions of Art; Dibujos Divinos: 20th Century Drawings from the National Museum of Art – MUNAL, México, and Diego Rivera and the Cubist Vision from the Museo de Arte Carrillo Gil, México — amount to the largest-ever showing of Mexican art in El Paso. Read a local report here.
BTW, last June, the El Paso Museum won an award for Cross-border cooperation and innovation that had nothing to do with this exhibit. Clearly, the museum is doing something right.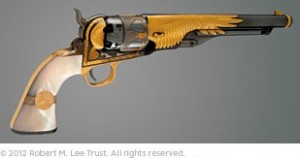 2) The Nevada Museum of Art opened three exhibitions on February 11 that showcase the design legacy of the Tiffany Family, including something new to me: a rare collection of Tiffany & Co.s' decorative firearms. Yup, you heard that right.
Apparently, Tiffany & Co. did a lot gun designing, and — shame on me for not knowing — there's a display of them owned in the Robert M. Lee Gallery of American arms at the Metropolitan Museum.* The Robert M. Lee Collection has now lent three revolvers, four pistols, one rifle, and one presentation sword to the Nevada Museum. Nearby, the museum is showing In the Company of Angels: Seven Rediscovered Tiffany Windows,  made by Tiffany Studios at the beginning of the 20th century and named for the angels in the Book of Revelation from the Bible. Originally installed in a Cincinnati church that was demolished in 1964, the windows had been crated, stored and forgotten until their rediscovery in 2001. Finally, there's Out of the Forest: Art Nouveau Lamps by Tiffany.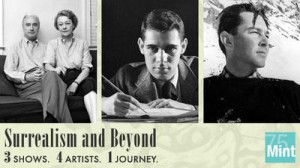 3) Also on Feb. 11, the Mint Museum in Charlotte opened three exhibitions on surrealism in what it calls "largest and most significant examination of Surrealism and Surrealist-inspired art ever presented in the Southeast." These three go deep, rather than broad, examining the work of four artists extensively: Double Solitaire: The Surreal Worlds of Kay Sage and Yves Tanguy; Seeing the World Within: Charles Seliger in the 1940s; and Gordon Onslow Ford: Voyager and Visionary.
With the exception of Tanguy, these artists are underexposed and it's great to see that remedied. The first two shows are also traveling.
As I always say when I haven't see exhibitions personally, I reserve final judgment until and if I do. But from afar, I'm happy to spread the word about these shows.
Photo Credits: Courtesy of the respective museums
*I consult to a Foundation that supports the Met