I was happy to hear that Ai Weiwei has been released in China, and though he's out "on bail" some experts I've heard say that is a face-saving and that he is actually free, for now at least. I have nothing enlightening to say about it, though (other than an earlier post) — except that it's a good segue to what this post is about: cultural diplomacy in a different situation.
Did any of you read the article in today's Wall Street Journal about the infamous Mexican drug gang Los Zetas? It says that the "bloodthirsty" cartel has taken over parts of the vast El Petén province, which includes the majestic Mayan pyramids at Tikal, recently killing 27 people to gain control of the land they need as a refuge.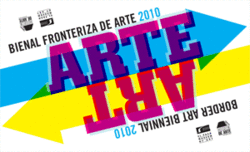 If they do that to people, imagine how much damage they can — and may — do to Tikal and other ruins.
All of which is one reason I am posting today about the El Paso Museum of Art, which recently learned that it has won one of only four of this year's Awards for U.S.-Mexico Cross-Border Cooperation and Innovation, which are administered by the Border Research Partnership (made up of the Woodrow Wilson Center Mexico Institute, the North American Center for Transborder Studies at Arizona State University, and El Colegio de la Frontera Norte).
The award, meant to tell "often-overlooked success stories of U.S.-Mexico cross-border cooperation," recognizes the museum for continuing to connect artists across the border in Juarez, possibly the most violent city in Mexico, with artists in the U.S. — and thus people, too — in its first Border Biennial in 2008 and its second in 2010.
Quoting from El Paso Inc.:
Artists living within a 400-mile radius of El Paso and Juárez submitted works for a juried exhibition that was shown simultaneously at the Museo de Arte de Ciudad Juárez and the El Paso Museum of Art….[In 2008] the artists dealt with topic like commerce, trade and economic issues….[By 2010, because of drug-related violence] the themes were very different…Politics, the border, abandonment….

[El Paso museum director Michael] Tomor and his staff worked with colleagues at Juárez museum, asking artists for two pieces to exhibit – one in El Paso and one in Juárez – since artists and museumgoers were reluctant to cross the border. They also expanded the area to include artists in all border states of both Mexico and the United States.
In such situations, and with such awards, the question of efficacy always arises: how can an art exhibit lower tensions, forge bonds, matter?
The answer, to me, is that those things are pretty hard to measure, and that it depends on what's in the shows and who goes to see them. Effects may be fleeting. I doubt they'll have any effect on the Mexcan drug cartels. though they may sensitize others to cultural losses.
So Border Biennials may do not much in actuality. But they can't hurt either, can they? So why not, when appropriate?