Amazing: just when you think nothing is secret any more, something comes along that is.
In 1997, I wrote a Page One article for the New York Times headlined: "Anonymous Gifts for Art, So Women Creating It Aren't."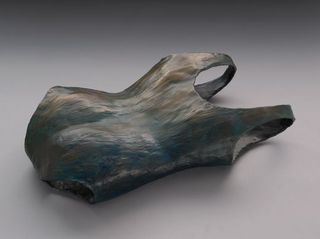 It was about a foundation called Anonymous Was a Woman, which was started by a philanthropist to help redress the discrimination in the art world against women, and also to help make up for the elimination of National Endowment for the Arts grants to individual artists. 
Reporting the article, I learned that the founder of the AWAW foundation was a woman "who insists on her privacy," and I respected that. (Ok, I asked around then, and I have my theories now, but I never got a definitive answer and I've never disclosed my guess.) 
She is still a secret officially, too. And today, the foundation announced this year's winners of the $25,000 prize, which goes to:
…women artists over 45 years of age and at a critical juncture in their lives or careers, to continue to grow and pursue their work. The Award is given in recognition of an artist's accomplishments, artistic growth and the quality of her work. It is not need-based.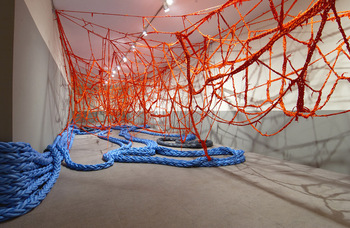 They are (descriptions theirs):
Eleanor Antin, Artist
Linda Besemer, Painter
Dara Birnbaum, Visual Artist
Andrea Bowers, Artist
Ann Hamilton, Artist / Installation
Yoko Inoue, Visual Artist
Jungjin Lee, Artist / Photographer
Mary Miss, Artist
Sheila Pepe, Artist (her Mind the Gap, at the Brooklyn Museum, 2005, is at right)
Judith Shea, Sculptor (her Crawl, 1983, at MoMA, is above) 
This year's awards brings the total number of winners to 161. Like MacArthur grants, they are notified "out of the blue" — someone else (critics, curators, previous winners) nominates them, without their knowledge, and those nominations are assessed by judges who also are supposed to remain unknown.
It's sad that we still need grants like these to level the playing field, but it seems that we do, as Jerry Saltz has written about the lack of women artists in MoMA's collection suggests. That's just one initiative that's taken place in the last year or two.