When I wrote about museums and women artists here yesterday, I noted that Jerry Saltz had taken up the subject a while back on Facebook, where he specifically attacked the Museum of Modern Art for not including many women in its permanent collection galleries.
What I didn't know, not being a Facebook member, was that Jerry had come up with a list of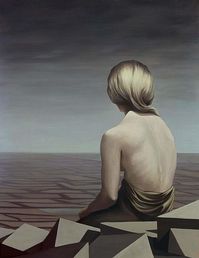 women whose works MoMA owns, and still hadn't put them on view in the critical fourth and fifth floor galleries. Artist Eva Lake, who blogs here, told me about that in a comment on my post and, when asked, she helpfully provided the list (or at least part of it, as Jerry has been writing a lot about this). Take a look:
Florine Stettheimer, Alice Neel, Hannah Hoch, Anni Albers, Alma Thomas, Claude Cahun, Leonora Carrington, Leonor Fini, Dora Maar, Lee Miller, Jo Baer, Paula Modersohn-Becker, … Eileen Gray, Clementine Hunter, Joan Brown, Chryssa, Maria Lassnig, Gego, Helen Frankenthaler, Grace Hartigan, Barbara Hepworth, Gwen John, Adrian Piper, Jane Freilicher, Lee Lozano, Dorothea Tanning, Minnie Evans, Louise Nevelson, Meret Oppenheim, Betty Parsons, Bridget Riley, Dorothea Rockbourne, Claire Zeisler, Kay Sage (her Le Pasage, 1956, is at right), Grandma Moses, Sister Gertrude , Hilma af-Klimt, Niki de Saint-Phalle, Janet Sobel, Atsuko Tanaka, Francoise Gilot, Anne Truitt, Ruth Vollmer, Jane Wilson, Sylvia Sleigh, Marguerite Zorach……"
I haven't analyzed who precisely is hanging in the permanent collection galleries at MoMA lately but, well, you be the judge.