Social Trust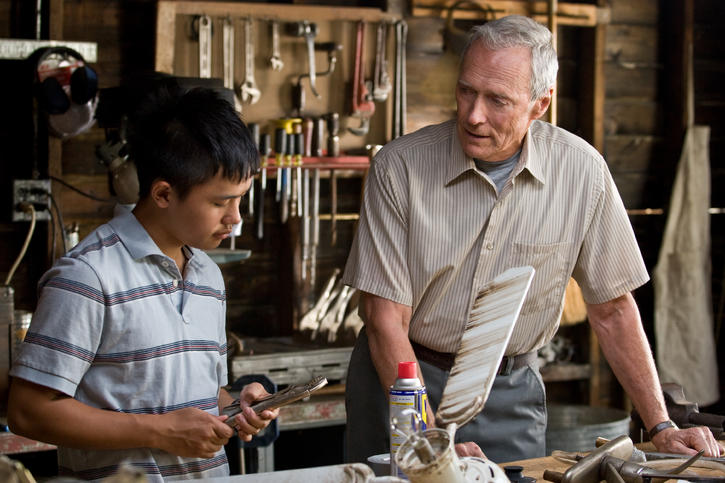 Don't be put off by Clint Eastwood's character at the beginning of
Gran Torino
(2008). It's a caricature of a cranky old widower, the only white resident left in a Highland Park, Michigan neighborhood, and it's so over the top you might feel tempted to bail out. Don't.
According to the 2000 census, Highland Park is 93 percent African American, 4 percent white, and less than 1 percent Asian. But as it happens, Walt Kowalski (no relation to Stanley) is surrounded by Hmong immigrants, whom he dislikes quite intensely.
But eventually he befriends Thao and Sue Lor, the young son and daughter of the Hmong family next door. And true to Eastwood's persona, he also proves tougher than the local gang-bangers, who are out to enlist the timid, confused Thao. The bond between Walt and Thao is at the heart of the film, and it is wonderfully executed by Eastwood and a young Hmong actor named Bee Vang.
This is a classic American film in one key respect: it shows how learning to trust someone very different from you can be the cure for unhappiness and social isolation. But it takes some liberties that most such films do not.
For example, from beginning to end,
Gran Torino
shows Walt ladling out the racial and ethnic slurs. No one is spared, from his Italian barber, whom he calls a "guinea" just for starters, to his neighbors, who endure being called "gooks," slants," and "zipperheads" with stoic politeness (except the grandmother, who relishes insulting him back).
It's like listening to one of Don Rickles's outrageous comedy riffs, only most people would not see the humor. I do, because I come from Boston, one of the few cities left in America where ethnic insult, when delivered correctly, is still an accepted form of social lubrication. We see this in the wonderful scene where Walt helps Thao get a job on construction but must first "man him up" by teaching him how to insult without offending.
To judge by the commentary on the DVD, none of the young actors associated with this film understood that such talk is not "racism" or "bigotry." This is kind of amazing when you consider that they were the ones who made the film. But I won't criticize them, because to judge by the brilliant result, they got it in the end. All credit to Eastwood and the writer, Nick Schenk, for this slice of non-politically correct social trust in the making.