Higher Ground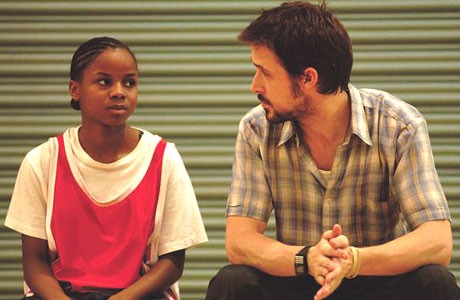 It's an old American movie cliche: an affluent but mixed-up white character is helped and guided by a black character who, despite being poor, is blessed with a head that is screwed on straight. In the old days the formula was a rich socialite and a salty, wise-cracking maid, or a great leader and a humble but wise valet. More recently we have seen a spoiled golfer and a clairvoyant caddy (The Legend of Bagger Vance) and a scruffy but honest cop and a smooth but honorable crook (American Gangster).

This hardly exhausts the list, but you get my drift. All the more credit, then, to the 2006 indie film Half Nelson, for making the old cliche new. Ryan Gosling is superb as a history teacher in a struggling Brooklyn middle school whose life is spiraling out of control, due to a cocaine habit rapidly turning into a crack addiction. His classes consist of pop Marxism laced with political ideas ca. 1968, but his mordant, self-effacing riffs capture the imagination of one student, a 13-year-old girl whose mother works long hours as a security guard and whose only other adult influence is the neighborhood drug dealer, who looks out for her because he feels responsible for having landed her older brother in prison.

When the student discovers the teacher's drug problem, the tables begin, ever so slowly and subtly, to turn -- until, without a single false note, the student emerges as the salvation (we hope) of the teacher.

Then best thing about Half Nelson is the performance of Shareeka Epps as a young girl who just happens to be the moral center of at least four other lives: her mother's, her brother's, (improbably) the drug dealer's -- and her teacher's. That's a lot to pull off, but Epps's performance looks effortless. She and Gosling are two of the most remarkable actors out there today (which is why they don't seem to be getting many parts).

I've already told you how the story comes out. But this is not a "feel-good" movie in the usual sense of the term. The ending is hardly uplifting, it just manages to lift us slightly higher than we were before -- and that feels not good, exactly, but somehow miraculous and believable.